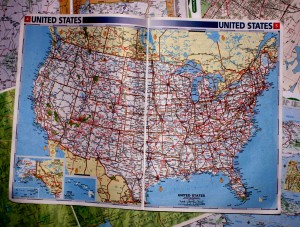 Even if gas prices rise or continue to stay high, road trips are a reality for most families. Here are some dos and don'ts to make them as pain-free as possible for every member of the family:
DO – Plan for extra time to stop and take a break. It's healthy to let everyone get some movement every few hours. If you find a rest stop with bathrooms, ask your children to try to go, even if they claim that they "don't have to go right now." They will.
DO – Plan in more extra time for unexpected delays if you have a specific arrival time. There could be bad road conditions or an abnormal amount of traffic.
DO – Avoid peak traveling times. If you're going through a city, plan to get there before or after rush hour times. A holiday road trip can be considerably faster if you are able to leave a day earlier than what you might have been planning.
DO – Give children as much space as possible. Siblings that start a trip as friendly companions can quickly become nasty enemies. Separating them from the get-go just skips a step.
DON'T – Forget to bring essential documents or tickets. If you are crossing the border between the USA and Canada, bring a passport and birth certificate for photo identification of each family member. Triple check these before you leave; my family spent an extra hour on the border coming back into the USA from Canada due to a missing green card (which could have been a $500 fine). If you are attending an event, you don't want to have to pay twice for the tickets you bought. (Or make the trip twice, yikes!)
DON'T – Rely on one method for direction. If you have a GPS or written directions, use them, but bring maps for added security.
DON'T – Wait until the car is on its last gallon before filling up again. Keep an eye out for stations with cheaper gas prices, and fill up as they manifest themselves.
For more road trip advice, read "Little Ones and Road Trips".