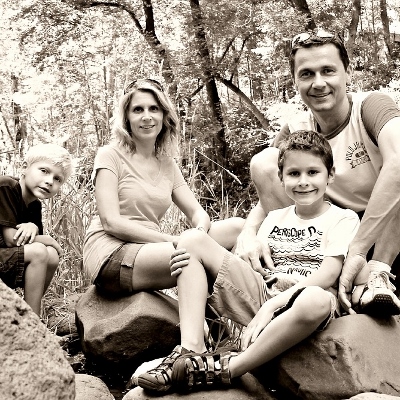 Family vacations rule!  Why? They provide a much needed break from the daily grind, as there are no deadlines to meet, no school lunches to pack, or no fourth grade science projects to complete.  Even more importantly, they have the power to create positive and lasting memories for your children.
Strive to make your next family vacation a memorable one by following one or more of the tips below.
1.  Tweak Daily Schedules
While you might not completely throw eating and sleeping schedules out the window during your family vacation, it is a great idea to bend the rules.
Allowing a child to stay up a little later than normal, or letting him eat ice cream for lunch, will add to the vacation's overall impact.  As your child looks back on these family vacations, he will remember them as being a time when it was OK  for the family to be a bit "naughty."
2.  Let Adventure Rule
Some parents love to plan every minute of a vacation – right down to the restroom stops.  To create a lasting memory for your child, resist the urge to overbook your trip, and try to let adventure rule, at least some of the time.
If allowed to be a little more spontaneous, vacations have a way of presenting unique situations.  Your child will always remember the day you set off from the hotel with no particular destination in mind.  Often, those are the times when the best things happen!
3. Ban Cell Phones and Video Games
You probably won't be able to pry electronics from your child's fingers for the entire trip, yet you should demand some gadget free time.  Today's kids don't spend enough time looking out the car window, simply daydreaming.  They also miss much of what makes a vacation special: new surroundings.
Your child might complain she misses her music or she wants to text her friends, but I can guarantee if she experiences a vacation that is almost gadget free, she will begin to appreciate the experience of being off the grid.
(To assist in the process, a parent must vow to set electronic equipment aside as well!)
4.  Lower Your Expectations
Vacations can be stressful if adults expect too much from them.  We do want to use the time to reconnect with our children, but we do not want to end up pushing them away by requiring they feel a certain way during the trip.
For example, you might be looking forward to visiting a cowboy museum in Ft. Worth, Texas, but your tween might not be.  Instead of feeling angry if your child is bored, realize that she will like the other aspects of the trip.
In essence, relax.  A child with a relaxed parent, one who doesn't need to control everything, will more likely have happy vacation memories.
A Trip to Remember
Vacations should be fun and memorable. By trying one or more of the tips above, you can help to ensure your child will always remember these good times.