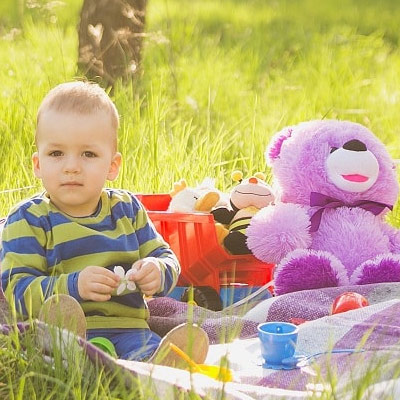 Eating a meal al fresco (aka picnic) is fun for all ages. And, your baby or toddler will enjoy eating this new way outdoors amongst their teddy bears, just like in the book The Teddy Bears' Picnic by Jimmy Kennedy. There are quite a few teddy bears at the picnic, and the author tells you if you want to know what is happening, you'd better go in disguise. At the beginning of the story, a little boy is dressed in a bear costume followed by other bears marching in a line that covers a hillside. These bears had loads of fun eating at the picnic, playing games, having sack races and so much more. The last scene of the book is such a surprise, where not only is the little boy (dressed as a teddy bear there) but also his mother, father, and little sister.
After you read this classic book to your little one, plan a small picnic lunch for him and his own stuffed teddy bears. Spread out a large blanket on the lawn and have him place his precious bears next to him. Talk about all the supplies you will need to use at your picnic, like picnic baskets, picnic foods, brightly colored tablecloths and blankets, plates, cups, utensils, and napkins.
Think fun when it comes to making portable meals. Picnic sticks are a winner. Take a variety of fruits, veggies, meats, and cheese and make these sticks to enjoy at your teddy bear picnic. Older toddlers can help you make these sticks in the kitchen at home.
First, dip all the chunks of fruit in a mixture of lemon juice and water so the fruits don't change color. Invite the kiddos to push fruit pieces onto straight plastic straws or coffee stirrers kebob-style. You might suggest that the older kids make patterns with the fruit such as 1 melon chunk, 1 strawberry, 1 peach, 1 pineapple, and then repeat the pattern.
Next, try making meat, cheese, and veggie kabobs using the same process. Seal all the kabobs in zip-locking bags or plastic containers to take to the picnic in an iced cooler. For variety, toddlers can place their food kabobs inside a hotdog bun, just pull out the straw and eat it like a sandwich.
For a dessert on-the-go and a perfect accompaniment to your picnic food make cakes in a cone. Prepare a cake mix according to directions and place this batter into about 10 flat-bottom ice cream cones. Arrange these cones onto a baking sheet and bake the cakes at 350-degrees for about 15 minutes. Cool and frost with icing. Invite your little tikes to decorate the cone cakes with sprinkles.
Complete your picnic with a teddy bear march, where your child and other family members parade around the yard with their stuffed bears. Why not march to some lively music or the cadence of a drum? Enjoy the food, the nature, and the company of these fluffy bears at your picnic. This event may become one of your child's all-time favorites!