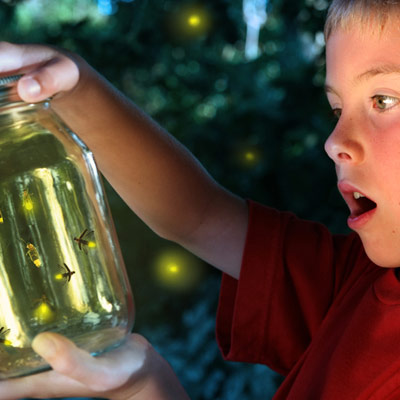 Summer is the perfect season for picnics. We mostly think of lunches spread on a blanket in the sunshine, but why not plan an evening dinner picnic under the stars and in search of fireflies? Elementary-aged kiddos are roaring to stay up late and romp around the backyard in the evening, maybe even in their jammies.
Start with a celestial-themed menu. Invite your kids to help prepare the food with you. Start with Crescent Moon Sandwiches using croissant rolls (yes, they look like sliver moons). Cut the roll in half and fill them with sliced meats, cheeses, tomato, and lettuce. You can even use chicken, ham, or egg salad. Wrap each Moon Sandwich in foil and stack them in a basket to take outdoors. Serve these with Bug Juice (minus the bugs) by mixing 4-cups of cranberry juice, 3-cups of apple juice and a splash of orange juice in a pitcher. Why not pour these drinks into individual mason jars to take on your evening picnic? Really convenient!
At dusk, head out to your yard or even a nearby park. Bring flashlights, insect repellent, and other picnic essentials, such as blankets, plastic plates and utensils, and napkins. You may want to lay a large plastic garbage bag on the ground before your blanket in case the ground is moist. Enjoy your dinner before nightfall.
As the night creeps in, have your kids follow the twinkling lights of the fireflies. The kids can capture a few in a jar to make a lantern. After capturing the insects in a wide-mouth mason jar cover the top with a paper towel with a few holes poked through secured with rubber bands. What a beautiful natural light for your picnic, but please let out these creatures to the wild after your picnic event.
When your kids sit outside on a summer evening, they'll hear just about everything that goes bump in the night. Why not play a game that captures night sounds? Prior to the picnic, make a list of audible sounds, such as a cat purring, frog croaking, cicadas, rustling leaves, water running, thunder, dog barking, and so on. As you hear the sounds, check them off the list. Think about recording the sounds on a cordless tape recorder. Play the sounds back after the hunt for entertainment.
For more fun, go on a night walk through the woods, lie back and look at the stars and try to find constellations, (how about the Big Dipper and Little Bear?) or even try to envision the man in the moon. Also, challenge the kids to a game of flashlight tag or sit in a circle and tell ghost stories holding the light under the storyteller's chin to give his/her face a creepy glow.
All in all, picnics are fun and an awesome way to bond with family members. Take advantage of the beautiful summer nights and plan yard dinner picnics as often as possible before the weather turns cool.