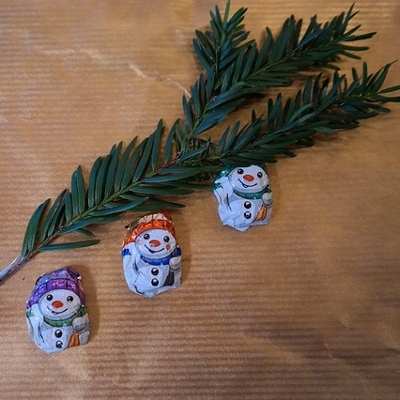 The holidays are coming and gifts need to be wrapped. In my house, wrapping paper is one of those things that I frequently forget to stock, gets misplaced, or I've run out of the paper as I attempt to wrap the gift. Have no fear because you and the kids can make homemade gift wrap from brown paper bags that will be beautiful, creative and eco-friendly. And think about the lessons you are teaching your children about repurposing items that will save the Earth. So, here are a few ideas to start with, but the unique aspects of your very own gift-wrap are endless.
First thing you need to do is convert brown grocery bags into flat gift-wrapping paper. Begin by cutting along one side seam of the bag. Then, cut along all four sides of the bottom flap, removing this end panel. Open the bag and press it flat on a table. You are now ready to plan ideas and get down to decorating. Even if your bag has printed material on the one side, the inside of the bag is plain.
Young children can begin decorating this brown paper with easy methods like drawing, adhering pretty holiday stickers or stamping prints using decorated stamps and an inkpad. As the kids get older and have more advanced dexterity homemade gift-wrap can become elaborate.
Glittered paper has always been a popular method of decorating. Have your kids drizzle a pattern with glue onto the flat brown paper. Think about making stars, candy canes, holiday trees, squiggly lines, and other abstract designs. Then, sprinkle on the glitter. When the glue has dried, carefully shake off the excess glitter back into its container. There are also glitter-marking pens, which make this job a little easier and less messy. For a finishing touch, use colorful markers to outline the shapes that are glittered – making the shape pop out and look dramatic.
For a fun painting technique, purchase and use small paint rollers to make wide stripes on the brown paper gift-wrap. Place your paint onto a paper plate and have your child run a 2 to 4-inch paint roller through the paint. Then, roll stripes onto the paper either horizontally or vertically – maybe both for a plaid pattern. Make sure that one stripe is dry before adding another contrasting color. Blending two primary colors may be alright to teach secondary colors, however if you blend too many colors or not the right combinations, a muddy color may appear. Clean the rollers in soapy water, dry and store for future projects.
Yarn can be used to make designs on brown grocery paper. The Huichol people in Mexico use this folk art form. To apply this technique on gifts, it's easier to wrap the present first with the brown paper and then create the yarn designs. Help the children line a bead of glue to make the shapes and then lay colorful yarn on top. Older kids can enhance these shapes with layers of yarn inside the shape to fill in the entire area. Let the package dry thoroughly before presenting the gift.