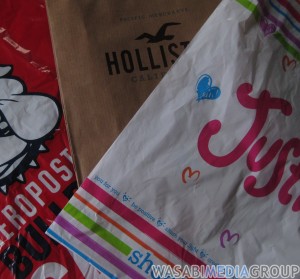 Well, it's that time of year again!  Time to go out and buy new, warmer clothes!  As a teenage boy, I am gonna give you my advice on this time of year!
Now, I'm kind of odd for a teen when it comes to shopping.  I am really frugal!  I won't buy anything unless I really, really want it or need it.  My sisters, on the other hand, could spend $300 dollars on clothes in less than an hour.  So, here come my tips!
Before you go shopping, take inventory of what your child hasn't outgrown.  Clothes that still are in good shape and not outgrown can be worn more, saving money!   Also, during this, you can find outgrown clothes that are still in good shape and donate them.
Make a list of what you need.  This will make it faster for those who dislike shopping and help you prevent duping by the kids.  "I need another shirt…"
Make a price limit on how much you buy.  If you have ever been to a store like Abercrombie and Fitch, you will know that they price it up.  I have seen shirts for $90!!!
Teens and tween are pretty hard on their clothes, so look for clothes that are well made and will last the entire year.  Don't buy clothes that will stain easily or seem to be bound to wear easily.
Buy outfits.  It stinks to come home, put on a new shirt, and discover none of your pants match.
Don't buy clothes with excessively flashy labels or names.  It's not as bad for the teen or your wallet as it is for the rest of the world's eyes.  No one likes that your shirt has some brand plastered on it fifty times.  Also, no one cares!
Don't buy TV show logo or actor's shirts (eg., Hannah Montana).  If it's hot one day, it may not be hot the next and probably never worn again!
So, you ready to shop…?