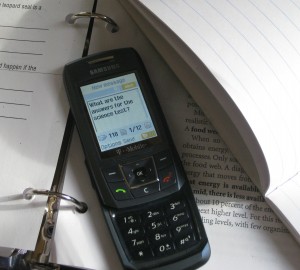 Recently, in my English class, we were discussing what the rules for cell phones in school should be.  I believe that cell phones should be banned in school for they cause a multitude of problems.
Now, many parents believe students should carry cell phones in school because students need them for emergencies and getting picked up, but there are more down-sides than up-sides.  For example, texting in an emergency could cause a fatal panic. Imagine if all the parents showed up at a school because of a fire.  There would be no room for emergency workers and teachers to evacuate the kids!  Also, texting of a false emergency could cause a similar panic and other problems.
Classes would be heavily distracted, too.  Have you ever sat next to a talkative toddler on a four-hour plane flight?  Having a kid texting in class would be like that.  All you would hear is his or her phone chime repeatedly in the middle of the lesson and them talking on calls!  Also, kids would learn much less because  of distractions from talking and texting.
Finally, students could spread rumors and gossip around schools as fast as light!  Having a rumor spread about you is bad, so imagine if everyone knew it at once.  It would be horrible!  Also, kids could cheat off of tests by texting others the answer. Sure, you can use it as a calculator, but what about tests with no calculator rules!  There would be no stopping the rule-breaking.
Many school have made anti-cell phone rules to prevent these problems, though.  At first, in the early nineties, most schools banned cell phones. After the incident at Columbine, debate over students and cell phones increased. With the events of 9-11, some states allowed student cell phones, which allowed school districts to decide whether or not to give this privilege to their students.  Most schools have made an anti-cell phone rule, with support from the teachers.
At my school, phones are banned, although in my grade the rule is loosely enforced.  Also, most kids rebel.   Over eighty percent of students in my grade carries cell phones (turned on)  in school.
So, the question is, how do you feel about the issue?