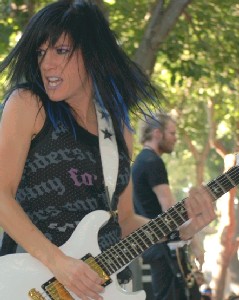 I took my son to WinterJam this weekend to celebrate his 11th birthday. I'd highly recommend it if you have the opportunity to take your children to this show when it comes to your town. WinterJam is a concert tour featuring ten Christian bands.
We went because this year's headliner is a band called Skillet which just so happens to be my son's current favorite. Skillet put on an amazing show, complete with moving platforms, a spinning drum rig, and enough pyrotechnics to satisfy any 11 year old. But that was just the cap on an incredible six-hour extravaganza.
Admission to the show is an unbelievably low $10 at the door. The only way to buy advance tickets is to join the "Jam Nation". For fifty bucks, you get early admission, a t-shirt, a lanyard, and a discount on tour merchandise. If you can swing the extra money, it is well worth it. While the main show started at 6:00, we entered the building at 3:30 and chose prime seats right by the stage. While the others were still waiting outside in the cold, we were enjoying an intimate Q&A session with some of the artists from the tour. Pre-Jam, featuring three of the lesser-known, up-and-coming acts from the tour, started at 5:00, just as the doors opened and thousands upon thousands of chilled fans poured into the arena.
WinterJam isn't your parents' Christian music. I'm sure chiropractors across the region are seeing extra patients with neck problems from all the head banging that went on. There was screaming and fire and hard rocking and all the good stuff that comes with a serious rock concert. But civility reigned in a way that is hard to imagine in a group of sixty thousand-plus people. Lines were orderly. Nary a four-letter word filled the air. Even the traffic leaving the arena proceeded in an abnormally polite and orderly fashion.
WinterJam is a wonder experience for kids and adults. I wouldn't suggest bringing any children under age 10 or so because of the extreme volume of the music and the extended length of the day. The family behind us had two children in the 5-7 range and I'm certain both parents and children regretted it. But for a safe, fun, uplifting experience you would have a hard time finding a better bang for your ten bucks than WinterJam.
(U.S. Army photo — Korey Cooper of Skillet)