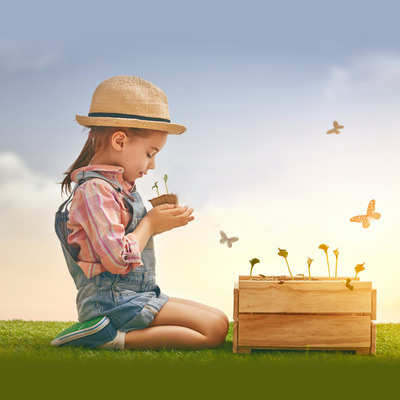 Whether you are growing veggies, herbs, or flowers, working with the earth is enriching for children. The pride and gratification children feel when contributing fresh food or a colorful vase of flowers bolsters their self-esteem. There is also a lot of education involved in gardening – science and math especially. You can discuss the importance of sun and rain, nutrients, effects of weather conditions, insects and their importance to pollination (even though they can be pests in the garden, too), the life cycle of a plant, and more. It's a great activity for your little learner.
First find a plot of land in your yard that can be turned into a garden. It doesn't have to be large. Container gardening is fun, too – I have had good luck with growing cherry tomatoes and string beans in large containers with a metal cage (that support bushy and tall plants).
As you begin to garden, your child develops coordination and muscle strength while using child-sized garden tools. Foster her energy as she rakes, weeds, plants, stakes, mulches, and waters. Have fun together as you handle the soil and enjoy nature.
Language skills grow during the gardening process. As children observe the sequence of growth, they will have questions. Communicate the colors, textures, and scents in the garden. Your preschooler will also boost vocabulary during this project. Words such as sowing, harvesting, weeding, germinating, and mulching should be used and explained.
Look at seed packets and plant stakes together. Read the directions for planting and discuss your plans. Talk about how far to space your plants (seeds), how deep to plant them, and how to care for the seedling. And the most important question will be, "How long before we get our vegetable or flower?" You can find all this information on the packages. The waiting period in gardening will hopefully teach your child patience.
As you plan a vegetable garden, plant a variety of plants so your preschooler can see firsthand how some veggies we eat grow about ground (peas, beans, cherry tomatoes) and some that grow under ground (radishes, carrots, potatoes). Some vegetables grow on vines, like a variety of squash and pumpkins. You may need to use a metal cage or wooden trellis for plants that travel upward.
Make a planting journal indoors as a continuation of gardening project. Create a booklet with paper and a file folder as the outside cover. Staple these together. Invite your child to glue or tape a seed on the page and then draw the plant as it grows. Taking photographs during your gardening adventure and growing process are perfect additions to the journal.
And remember, that reaping the rewards of their labor teaches children that we're not completely dependent on grocery stores and the florist!