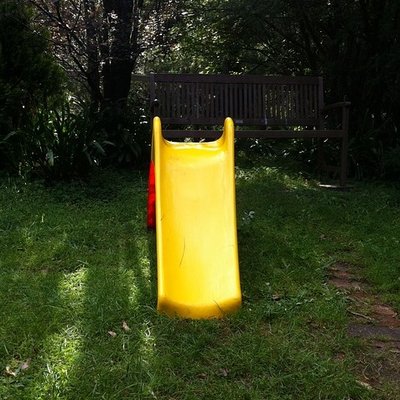 It still amazes me that kids today have to be reminded to be active or that being active is not a "norm." However, once we can show children how to find enjoyment while being active, they gain many benefits.
I remember growing up and never being in my house unless it was storming. Instead, I was somewhere throughout the neighborhood until the street lights came on. We would be playing football, hide and seek, creating an Army and battling other kids, etc. We were very active, and this included almost every kid on our block; boys and girls alike. What changed?
Truthfully, we changed. The world became scarier as we learned the dangers that lurked around us. Where it used to appear as isolated incidents; it now is a daily reality. We can teach our kids to be house-hermits or to find other ways to be active in our societal bubbles. The trick is to get kids together.
I promise if you bring together a few kids and toss a ball into the yard, they will become active very quickly. The challenge for some is bringing them all together. There are parents who do not want to their children roaming down the street or disappearing until the street lights come on. So what is the fix?
There are two things that have worked for me. One is to create a yard that invites neighborhood children. We live on a enclosed street that is like a large cul-de-sac and there are several families with children. Most of the families have playsets in the backyards and other ways to entertain in a fenced in area or one where multiple neighbors (even those without kids) can have eyes on them.
The second method I have employed is good old fashioned meddling. Our development has a city park within and a very active Facebook community. A quick note on there that a pickup soccer game or toddler invasion of the playground is imminent often attracts some families who are trying to get their kids off the iPads.
As parents we do not always have time to entertain our children. It is hard for most of us to understand this world, and we are the first generation to not let our kids roam the pastures. We can't let our children suffer because of this and need to look at what other options we have to get them active.