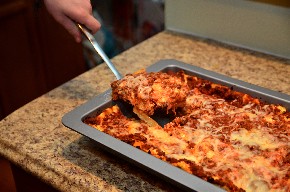 Cooking is a life skill that will serve tweens well into adulthood. While this doesn't necessarily mean that they will eat better, it will be easier for them to make the adjustments to a healthier lifestyle if they understand the basics of the kitchen. There is no better instructional manual than having them play assistant shopper and chef.
Start with having your tween plan a meal for one mealtime. It could be breakfast, lunch or dinner. The point is to get your tween to think about what they like to eat and what goes into creating a meal. Menu planning is a key skill that will help them later on when they are on a college budget or just starting out a new job. Let them make the choices on what to serve.
After planning the type of meal they want to have, make them look up the ingredients to make the pizza, spaghetti, or chicken. There are several skills you can emphasize. Mathematics is the primary one as your tween has to figure out how many portions to make for the number of individuals in your family. Along with that goes determining how much of the ingredients they need to have on hand. This is also a good time to look at coupons and discuss substitutions that may need to be made. Have them make a shopping listá of what they will need.
Then take them to the grocery store. Exercise more of their math skills by keeping track of the total bill. This is also a good time to explain the basic layout of the store, how coupons work at the register and how to determine whether or not they are getting a good deal on items. You may want to include a lesson on selecting produce and checking for ripeness of fruits and vegetables. Along with learning to cook goes learning how to effectively shop in the grocery store.
Once the ingredients are home, let them start the process with supervision. Teach them the proper way to handle knives, how to work the oven and regulate the temperature of the stove. But let them do the bulk of the work and resist stepping in every single time that they make a mess. Learning how to clean up is also part of the process.
Finally, let them serve their creations to family members. Yeah, some of them may not like it and you may have to lay down the law on making sure that dinner by your tween at least gets tasted. But even if dinner does fail, your tween has gained some valuable experience that they can take with them in the future.
Teaching your tween to cook is a skill they need even if they balk at first. But is something that will serve them well into their adult lives.