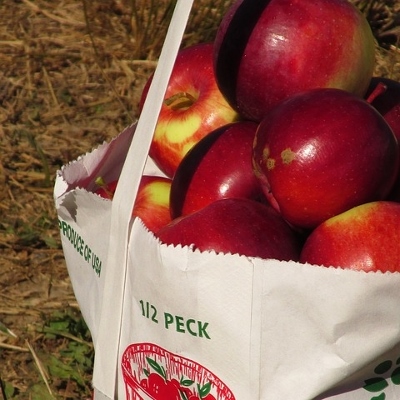 Apple picking!  I love apple picking.  Not only is it cheap and fun, but it is exciting for all groups and ages.  It is great for all sorts of things, from a fun date to a group activity; everyone will love it.
The first thing to you should do is look up places near you.  I have a few local farms that I swear by and always go to, but it is always fun to switch it up an try some place new.  Look for places with lots of variety and a large place to pick.  It is not as fun if you can't walk around for a while.  Of course, half the fun of apple picking is roaming the fields.
If you are going on a date try going around dusk and getting dinner after.  Or you can go back to one of your houses and make dinner and dessert with your fresh apples.  Remember to dress comfy as you will be walking around a lot.  This is great for a first or second date.  It gives you some quiet alone time where you can talk and get to know each other without being too close or alone.
If you are going with a group of friends, any time of day works.  Dress however you like, but remember that apple fields are also great for photo shoots.  I personally love ripped jeans, Converse, a tank top, and a plaid flannel.  Very fall looking, very cute, but still very comfy.
Apple picking is great because it is active.  Many people would be fine just sitting around at home, but with apple picking you get to go outdoors and get some fresh air, enjoy nature and get some exercise.  If you don't want to actually buy the apples many farms don't mind if you simply walk around in them, although I suggest getting the smallest bag and picking a few apples.  I mean who doesn't love fresh apples?
Another great thing about farms that do pick your own apples is that this time of year they often have corn mazes or haunted tractor rides.  Fun for everyone and perfect for a date or a group of friends.  Apple picking and corn mazes are perfect for group dates.  It allows everyone to pair off with their date, while still being social and close with their date.  It may cost a few dollars, but it is far more fun that just sitting around at someone's house.