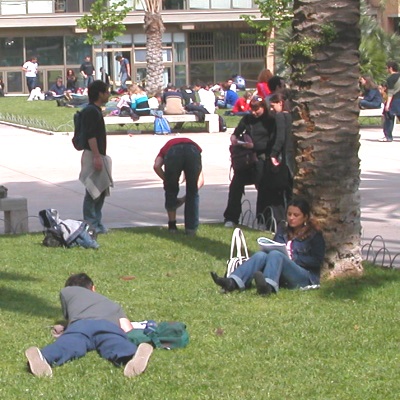 Ladies and Gentlemen, it is here.  I am in the final quarter of my high school career and honestly I could not care less.  At this point, it seems like there is nothing driving me forward anymore.  I currently have all A's, I have secured my position in the top five of my high school class, and I will be attending the school of my dreams.  At this point, my only motivations are to make sure that I don't fail any classes and to have fun while doing it.
However, I also understand that there are risks that come with completely slacking off at the end.  I frequently remind myself of a handful of reasons why I cannot completely just give up on trying.
You can let your grades slip a little, but not too much.  If you fail or get D's, colleges will cancel your admission or remove scholarships.  The vast majority of admissions agreements are not binding, so they can remove it at any time.   I have an appointment to the United States Air Force Academy, in which it was openly stated that I will lose my appointment if I fail a class this semester.
AP Tests have not happened yet.  If you are like me (taking AP Tests), you need to keep your head in the game.  Those tests matter, so the last thing you want is to mess around and do poorly on them.  That may not get your decision rescinded, but failing the tests is basically a waste of $80.
Spring sports are still in session.  This means that you are still able to fail off the team if you are involved in spring sports.  At my high school, two failing grades gets you booted from the team.  That's it.  That makes it all too easy to get removed from a sport, say baseball, and lose the final season of your high school career.
With all of that said, I don't know if you need to be in full speed panic mode like you were first semester.  As a senior, I can openly see my teachers slowing down for the year with us.  They know that we are no longer fully, 100% in the game, and honestly, neither are they.  At this point, all of the AP classes are just reviewing for the test.  There's nothing else left to do.  After the tests have happened, we basically just do nothing for the rest of the year.  So it's completely okay to relax a little, but you can't just give up.
Unfortunately, there is still time to lose what you've worked for.