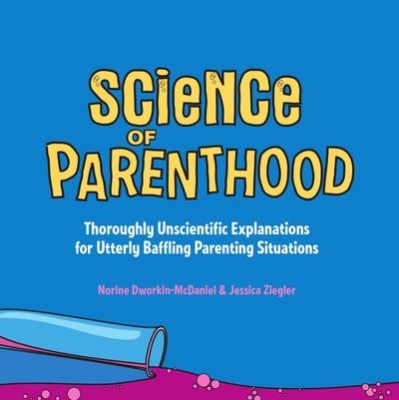 This is a book for times when you're feeling a little (or more than a little) cynical about parenthood, and you're looking to get a couple laughs out of it, because deriving any other benefits seems out of reach. You could say it's a quick read — despite its 200+ pages, much of it is full-page graphics, white space, and fairly large print — but it's more likely to be something you read in short bursts, while waiting for the baby to fall asleep or the preschooler to finish using the bathroom. (You're going to be late to wherever you were going anyway, so you might as well relax.)
Science of Parenthood: Thoroughly Unscientific Explanations for Utterly Baffling Parenting Situations is set up like a textbook, with sections on Biology, Chemistry, Physics, and Math. Why this approach? Well, the authors come up with quite a few reasons parenting is like working as a scientist. For one thing: "Your best work won't be appreciated until you are old, gray . . . and possibly dead."
You'll learn Genetics (being a "decisive leader" comes from you, being a "bossy dictator" comes from that other parent), Thermal Engineering (that is, engineering the ratio of French fries to green vegetables on the plate — 8:1) and the Sleep Geometry Theorem (a child will always sleep at right angles to any adults sleeping next to him).
The charts — except for the ones I wasn't smart enough to understand — are quite possibly the funniest part of the book, from the Pregnancy Craving Timeline (which reminds of the time I bought some asparagus and got home to find I didn't like it anymore) to the New Toy Enthusiasm Curve, which rises steeply when anyone else shows an interest in the thing.
Though it's good for odd moments when you need a break, I'd advise you not to leave this book lying around — your kids will be attracted by the colors and cartoony illustrations, but it has words (let alone concepts) you probably don't want them picking up at home. Not to mention all the times it gets into bathroom words — well, what did you think a section entitled "Toxic Waste" would be about? Mere nuclear refuse?
Co-creators Norine Dworkin-McDaniel (principal writer) and Jessica Ziegler (illustrator) have also produced The Big Book of Parenting Tweets and . . . The Bigger Book of Parenting Tweets. They both have plenty of other creative cred, but significantly, each of them also has a son.
(Note: Although the reviewer received a free copy of this book, this is her unbiased opinion.)