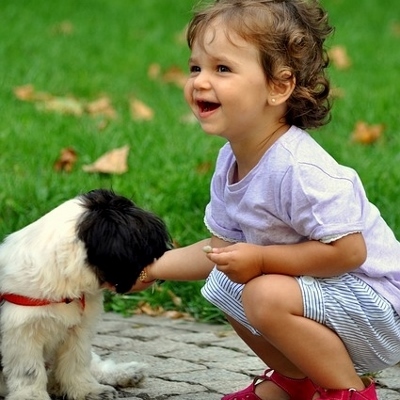 "Daddy can we keep her?" is a question most parents are asked by their preschool children and just about every other age group as well. Children love the idea of having a pet to care for, but they are still too near-sighted to understand the realm of responsibility required to care for another life. Pets are a great idea and here is how I approached the subject of teaching responsibility.
We have always had at least one dog in my house my entire life. I did not have any pets for about four years after joining the military and it felt odd. There is definitely something about the companionship that makes a huge difference. I would not want my children to miss out on that experience. However, a new dog is a lot of work. We are fortunate to have a 13-year old dog that she can learn to care for, but she wants a pet of her own.
I know exactly what will happen if my daughter gets a puppy…I will be caring for it. I know I will get many promises and pinky swears of how she will do all the work, but the reality will soon set in when she can't go over a friend's house to play. So to let her slowly get her feet wet, we got her a plant to care for. A simple bamboo plant that needs to be watered every so often. We let her choose a plant she really liked, and she did fantastic! She even volunteered to water some of the outside plants, too.
The next step I am going to take is getting her a fish tank with a few fish in it. Fish need to be fed every day and the tank needs to be cleaned occasionally. I plan on getting her one this summer after school lets out so she can have a diversion.
A fish tank, hamster, or other small pet is ideal for this age group so they can learn some responsibility for caring for a life. Once they master this responsibility, they will be able to handle a dog or another animal.
Naturally, parents are still going to have a handle on the care of whatever pet is brought into the home. However, I want my child to feel the responsibility of having a pet. This is something that can be slowly introduced to her and allow us parents assess how well our child will rise to the occasion.