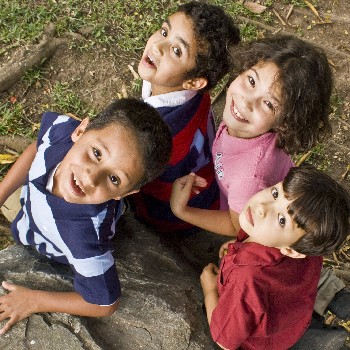 Preschoolers love play dates. Having friends come to the home lends itself to fun and excitement for the child, but a parent may end up with a raging headache if he or she doesn't plan for the event ahead of time. From the number of children to invite to structured activities to snacks, pre-planning can make for the perfect play date.
In my experience, the first thing to consider is the number of children to invite. If you have a four-year-old who is an only child, you may want to invite one or three other children to the home. Basically, you want to prevent the "odd person out." This can happen when three four-year-olds try to play together. Many times, one child can end up being excluded from play for one reason or another. Having two children or four children for a play date seems to work out best.
Next, having a few structured activities will help the time together to run smoothly. The activities don't have to be labor intensive; they can be as simple as coloring at the table with new coloring books or playing a game of hop scotch on the back patio. You can even ask those invited to bring a favorite doll to participate in a tea party. Or have each child bring a favorite ball — basketball, football, baseball, soccer ball –and have a great time using each one, one at a time.
Play dates do call for treats. Providing the perfect snack can be as easy as offering fruit and cheese, or fancy shaped mini-sandwiches, or peanut butter topped graham crackers. Drinks can include water, juice, or milk; however, make sure to ask the child's parents about any special dietary needs or allergies before you serve anything. Using colorful paper plates and napkins will add a sense of specialness to the day.
Other considerations for a perfect play date include:
1. Scheduling the event for two hours maximum for the first time. This will help to ascertain whether the children "mesh."
2. Don't disrupt a sleep schedule for the play date. Have the play date at a time during the day or early evening when all children involved feel rested.
3. Allow for some unstructured play time. Keeping the children busy can make the event go more smoothly, yet the children should be allowed at least some time to play as they wish. A great place for this is outside in a fenced in back yard, in a large playroom, or in a child's bedroom if it's big enough.
4. Establish rules at the beginning of the visit. Children should know where they can and can't go in the home, and they should not be allowed to run around like crazy! (Little ones sometimes assume that rules don't apply away from his or her own home, or if mom and/or dad are not around).
5. Break up any squabbles quickly and calmly.
6. Keep smiling. Preschoolers grow up way too fast!