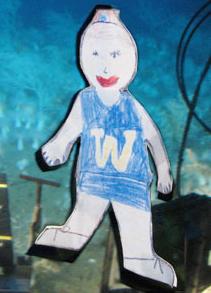 Paper dolls are a very old school toy that has never really gone out of style for little girls. Even now, little girls are just as fascinated with the concept as they were years ago.
Paper dolls started out relatively modestly. They were a creative and cheap way to give girls a plaything. The decked-out dolls of the time were out of reach for many parents. But these paper dolls offered a versatility that a regular doll couldn't. The girls could change their clothes or make a new doll simply by cutting out new paper.
Today's paper dolls are a lot sturdier than the ones of the past. This is because many of the dolls are made out of a cardboard-like material. There are still some that are made strictly out of paper.
The cardboard cutouts are a little more expensive than the paper ones. But for a toy, they are not very pricey. Plus, girls can create new clothes for their doll with paper that is already on-hand. It is a simple craft project that evokes their imagination.
Aside from the changing clothes, which is the major attraction, they will fit into most dollhouses. However, they really aren't that good at sitting. But there is a way to make them stand up with a little bit of creative thinking.
The main problem with paper dolls is they aren't very durable. Even the cardboard ones won't stand up really well to getting wet. Tea time can spell disaster for these dolls. But replacing them usually isn't that much of a cost.
Playing with paper dolls brings out a girl's imagination. They have the freedom to change their doll's clothes on a whim or bring out their creativity in making new ones.
While they appeal mostly to girls, there are some male paper dolls available for boys. But boys usually don't have the patience to tackle such things as pushing back a paper tab to put on a shirt. Boys can also be very rough on things made entirely out of paper.
The paper doll holds a timeless appeal for girls. This is one toy that is unlikely to fall by the wayside even in the age of technology. After all, a girl's best friend is usually her doll.
(Photo: U.S. Geological Survey)