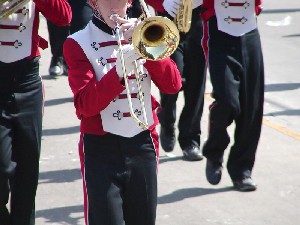 My ninth grade daughter sang "The Star Spangled Banner" in front of the Statue of Liberty today. Yesterday she walked onto the stage of the famed Apollo, and performed where many of America's greatest singers have also belted out memorable musical numbers. Is my daughter a hit recording artist? No. She's a member of her high school's show choir.
As a parent of three, I want to relate the benefits of being a part of either band or choir in middle and high school. Not only do children learn to play an instrument or to sing, they also learn to work as a team, to value hard work, and to value the arts in general.
Consider this – teens who are involved in music programs generally do better in school overall. One reason for this is because they feel part of something bigger than themselves. All teens want to belong, and music programs help them to do just that. Another reason – the more time spent on music, the less time they have to get into trouble!
Band or choir can also offer insight into the concept of teamwork if your child does not like sports. For example, effective singing depends on harmony – if your son is the only bass, he can easily understand that his contribution helps the team. Or, if the band director assigns your daughter the trumpet solo, she will realize that skipping class only hurts the team effort.
Another benefit of music in the schools is that it teaches hard work pays off. Have you ever sat through a 6th grade band concert? It's exciting to say the least. Children who couldn't even blow into the mouthpiece of an instrument in September, can play a cute little ditty by December. By the time the same children arrive in 12th grade, their skill level has dramatically improved.
The same can be said for choir members. Last weekend I volunteered at the local solo-ensemble contest in my school district. I assisted several 7th grade soloists with having enough courage to face the judges, yet I also stood back in awe to marvel at the 12th grade soloists singing show tunes with complete confidence.
Finally, being part of a music program promotes a life-long love of the arts. If parents expose their children to these opportunities, they lay the foundation for years of enriched life experiences. In truth, appreciation for the arts promotes much more than many people think. Those that understand music (in any form), art, dance, and literature, can better relate to people other than themselves. A powerful example of this? I didn't live during the French Revolution, but I certainly can understand some of the emotions and hardships the people suffered after watching the great musical, Les Miserables!
Am I happy my daughter traveled to NYC to experience the Big Apple from a choral point of view? You bet I am! After reading my article, I hope you see the value in school music programs as well.