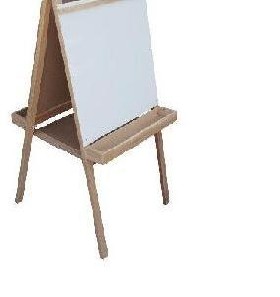 The Melissa and Doug Easel is a station where children can express their creativity. There are two sides, a white board and chalk board. It also comes with a roller on which a roll of paper can be placed and colorful trays on both sides.  (Photo shows a similar easel — Ed.) Unfortunately, the easel does not come with paint or chalk, which must be purchased separately.
The easel isn't that hard to put together. The main pieces are pretty big, and the legs come in two parts, which can be adjusted. I recommend making the height adjustment before completely screwing in the boards. Otherwise, you will find that you have to unscrew the boards and redo them again. You will have to unscrew the roller every time you want to install a new roll of paper.
If you get the paint accessories in addition to the easel, you will find that the trays easily accommodate the paint cups and brushes. I do like the paint that comes with it. It is very easy to clean up with water and doesn't stain clothes. It also comes off of the white board pretty easily. However, the chalk is not that great. It doesn't write very well and you can barely see it against the black. You might want to consider a different type of chalk for this one.
The easel is pretty sturdy for kids to color on. It even stands up to the rougher treatment of a three-year old. For safety reasons, I wouldn't leave children alone with it, because they can  tip it sideways. However, if it falls over, it is very unlikely to break, because the wood is very sturdy.
Kids will love this easel — and the price has come down somewhat, so it is more affordable. You can easily find this at most toy stores and online. This is an ideal play toy for any budding artist. I would recommend picking up the paint set that goes with it, but skipping the chalk and crayons. You can find better versions of these products elsewhere.
(Photo: CPSC)