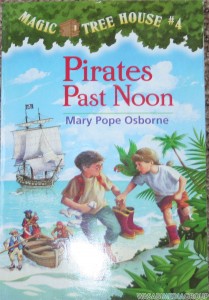 Mary Pope Osborn has made quite a name and a fortune for herself with her series of Magic Tree House books. There are already over 40 books in the series, not including the occasional reference guide. The series follow young Jack and Annie on their adventures through time and space courtesy of, well, a magic tree house.
The gist of it is that the tree house appears… magically… in the woods near Jack and Annie's house whenever the magical Morgan needs their help on a kooky mission through time. Jack and Annie have traveled to deserts, jungles, and islands, among many other locales. They've worked with William Shakespeare. They've escaped a volcano.
The appeal of the books is both in Osborne's style and the grown-up exploits of the kids. The books are written with a simplistic sing song tone that kids can embrace easily. The main characters' personalities are fixed in such a way that readers find comfort in each new adventure, as if catching up with an old friend. Jack is a by-the-book kind of young man, rigid but knowledgeable. Annie is the carefree wild child, always willing to go anywhere and try anything.
As with most successful children's stories, the lack of parental supervision is nearly complete. Typically Jack and Annie will yell a "Be back later" as they rush headlong into another unsupervised time-traveling adventure on behalf of an adult woman (who is sometimes trapped in the body of a mouse, but we won't get into that here) that the parents have never met.
The Magic Tree House novels are hugely successful, both in terms of financial gain and in motivating kids to read. My son has at least thirty of the books and has borrowed another ten or so from the library. Although each story is self-contained, there are just enough plot threads dangling between books to inspire a quick turnaround between finishing one and starting the next.
I consider the Magic Tree House books to be an excellent starting point for a young reader, primarily because kids want to read and keep reading them.