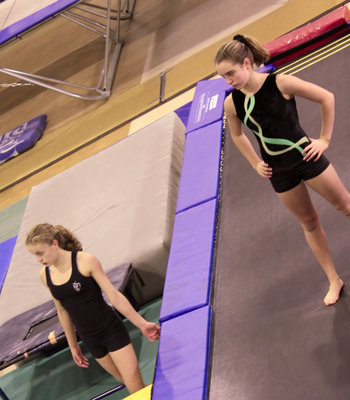 Kids think that bouncing up and down on a trampoline is super fun, but unfortunately it is one of the most dangerous activities that children can do at home. According to an article in USA Today, a study from Indiana University School of Medicine found that from 2002 to 2011, there were one million visits to the emergency room from trampoline injuries, including 289,000 for broken bones. And, other than fractures, we are talking about concussions, lacerations, and abdominal injuries.
Injuries occur from collisions with another person on the trampoline at the same time, landing improperly while jumping, falling or jumping off the trampoline, and falling on springs or the frame. I know kids need to be active and get in their fair amount of exercise, but this isn't the safest way to go for this task. The only way I would suggest trampoline jumping would be in a facility with well-trained supervisors — just my opinion as a worrisome grandmother of four.
So even if you take your kiddos to a supervised play area with trampolines (hopefully with a trained gymnastic coach), you still have to make sure the design is safe and instill safety guidelines with your children before you enter the venue. Here is what you need to know:
Trampoline Design –
The steel frame and springs should be covered with a safety pad.
An impact-absorbing material should surround the entire surface of the trampoline.
Setting the trampoline in a pit so the mat is at ground level should be a consideration.
Inspection of the trampoline should be conducted often, looking for tears, rust, and detachments.
Keep ladders away from the trampolines to keep toddlers and younger children away from entering the equipment.
The Rules of Trampoline Use –
There should be only one person on the trampoline at a given time, but if a multi-bouncer activity is unavoidable, supervise so the kids are at least matched in height and weight. Spotters should be on sight the entire time of play.
No horseplay or dangerous stunts should be performed.
Keep other toys off the trampoline surface.
No food or drinks are allowed while jumping on the trampoline.
Trampolines are not recommended for children under the age of six.
Bounce houses (very similar to a traditional trampoline) at parties can cause the same injuries.
For safe trampoline use, coaches should use safety harnesses and spotting belts for want-to-be gymnasts or when practicing more challenging skills.
The bottom line for me as a mother and grandparent is no backyard trampolines at our home, but of course this is not my decision for all our readers. Just make sure you follow all the safety rules if you choose to have this device in your yard. Also understand if another child under your supervision acquires injuries while jumping on your home trampoline, you could face liability issues. Too bad an innocent play device has to be so dangerous.