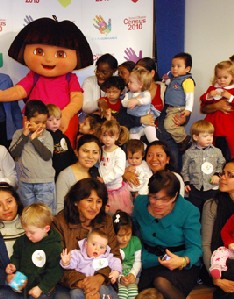 For kids who love Dora, the Dora Fiesta Favorites Kitchen from Fisher Price is really the only kitchen they need. This kitchen is all about Dora and speaks both English and rudimentary Spanish. Most 2- to 3-year-olds will get a kick out of cooking food with Dora.
The kitchen is actually simpler to assemble than other kitchens that I have tried. It is a basic click-into-place with a few screws to hold the base in place. It comes with a basic food kit designed to match the color coded cards, a few kitchen utensils, and a phone. The sink is a separate piece and really doesn't have any attachments.
The phone is really the most disappointing piece of the kitchen. It lacks any distinct creativity in design or color. In fact, only the shape itself marks it as a phone. This is quite a disappointment for what is supposed to be a very creative character.
You can easily buy additional things to put in the kitchen. But you will probably need an additional box to hold them in. Space is limited and the items that come with it barely fit in the oven and refrigerator. There is also no real shelf space to store additional items.
It talks fine in English and in Spanish. It does sound like Dora. The speech will follow the plastic cards. So you do have to switch them up if your child wants a different recipe. A four-year-old could probably switch the cards but a two year old can have some†trouble.
Overall, it is a good gift for children who love anything Dora. They will love playing and spending their time cooking. The key to getting a good deal on this kitchen is to shop around. Toys R Us seems to have the lowest price at around $60, but that depends on the store and your area.
(Photo: U.S. Census Bureau)