Though it is not easily apparent, a lot of children across the country actually have a fear of failure. In fact, some experts even describe it as a "childhood epidemic" because some children feel anxiety when they join a sport, take quizzes, or perform in front of people. As a result, they are unable to give their best, and most are afraid to take risks.

The Cause of this Fear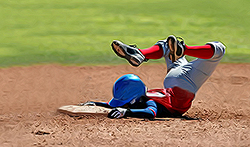 The media plays a large part in promoting this "epidemic". Failure has been defined as being poor, unpopular, powerless, unattractive, and anonymous. From movies to computer games, the financially less fortunate, unsuccessful athletes, and nerds are projected as losers that should be rejected by society. Popular culture has created the fear of failure, and it brainwashed children into thinking that if they fail in even the slightest task, they will be ostracized and become losers.
Unfortunately, a lot of parents are making the situation worse by pressuring their children. Believing that they are doing the best for their kids, parents sometimes try to connect their own love with their children's success. Their kids believe that they will only be loved if they get good grades and do well in sports.
How Children Avoid Failure
Some children decide to miss out on fun and enjoyable activities where there is a risk of failure. They will refuse to be interested in school activities to maintain their social and personal esteem. Parents and teachers will notice that there are certain individuals who are prone to injury, sickness, forgotten materials, or damaged equipment. These are the children who are not interested in anything where embarrassment is a possibility.

Dealing with Failure
In order to cope effectively with this fear, it is essential for adults to let children realize that failure is a part of life. Overcoming it can help a child grow up to be a happier and healthier person. It shows children that even if they did something wrong they can do something to correct their mistakes. It promotes a sense of ownership, accountability, and leadership.