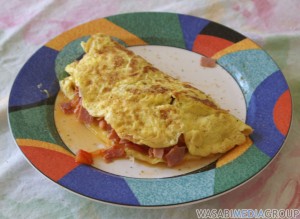 Do you do all the cooking in your household? Is it always up to the parents to prepare every meal? Sometimes it's good to teach preteens or teens how to make their own meal, so if you can't make it home in time to prepare dinner, they can still make something that's filling and nutritious (something other than a peanut butter sandwich). I'm a senior in high school now, and though my parents typically still prepare meals, they can't always be there. When that happens, I don't have to order pizza or resort to mac-n-cheese; I can make my own meals. One of my favorites, which is easy to learn and teach, is an omelet. When I was 10, my dad let me help him make omelets. Each time he made them, I would help with a different part. Eventually, I could do it all myself. Here are the steps to create an omelet (like the one pictured):
In a medium-sized bowl, beat 3 eggs and an "eggs-worth" of milk (I use 2%) until the mixture is relatively even and a little bit frothy.
Cut up whatever extras you want on the inside of your omelet (I like tomatoes and ham) and allow them to simmer in a smaller frying pan.
After adding butter to prevent the omelet from sticking, pour the egg mixture into a frying pan that is large enough to let the mixture create a layer no thicker than a centimeter. Allow it to fry until most of the egg mixture has cooked through, except perhaps a thin layer on top.
Flip it over! Wait until there is no longer any uncooked egg mixture left over.
Turn off the heat. Now's the time add the "filling" on top of one side of the omelet, add cheese if you'd like, and fold the uncovered half over this one. Salt and pepper as needed, and enjoy!
I like making omelets, because you can add a variety of "fillings" depending on your taste or what's available in the house. Of all the meals I cook, I enjoy my omelets the most; they are easy to make and taste great!