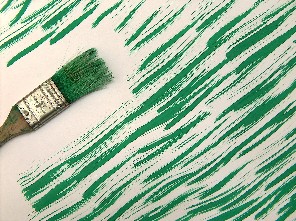 Practically every kid loves to paint. However, you can rarely find paint that doesn't come in those little ovals. Instead, Crayola Washable Paint comes in 2 oz plastic bottles of paint. There are 10 bottles to the pack. They come in the shades of red, blue, and green along with the standard white, brown, yellow, and orange. The pack does not contain black.
The 2oz bottles mean that there is more paint in each container than in the oval containers. This means more pictures made in paint for your child. The extra paint also means they have more leeway in creating versions of their own colors. You can also control how much paint is used by pouring it into a different container or onto a palate. If you have several children who want to paint at the same time, it is better to pour it into several smaller containers to prevent fights over the same color.
The main disadvantage to containing the paint in these bottles is that they can easily be tipped over. An accidental elbow or a misplaced bottle can cause a spill. But since the paint is washable, cleanup is fairly easy. However, the paint cannot be cleaned off of materials that are already painted. It may be difficult to get off of wood or other unfinished surfaces.
Use this paint in an area that can be easily cleaned. If you have carpeting, place  a mat underneath the table or paint area to prevent it from absorbing directly into carpet. Incidental spills on carpet should be cleaned up immediately while the paint is still wet. How well your carpet cleans up from a mess depends on the carpet.
The other point to mention is that this paint is intended for paper and is not meant to be face paint despite the fact that it is washable. Nor will it come out of all clothing. So have your kids wear old clothing when using this paint.
Kids under three probably should not use this type of paint unless it is under strict parental observation. It can get very messy and doesn't really make that great a finger paint.
Older kids who love art will love this kind of paint. It also is good for things like painting the boards for science projects or creative art projects.
However, the lack of black paint is very limiting. Also, there are no paintbrushes.
It is best purchased when on sale or with a coupon.