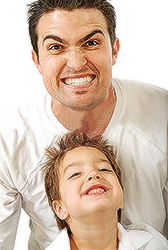 Before I became a father I thought that becoming a "cool dad" was easy. But now my three year-old son is teaching me that parenthood is a big and complicated thing that could not be boxed with a term as simple as "cool dad". Before I became a father the "Dos and Don'ts" of parenthood were clear to me, but now my three year-old son is teaching me that theory and application are two different things.
Here are the big little things I learned from my son :
Guiding your child to the right direction is more than justásaying "no" to any undesirable behavior he shows. As parents we can do more with saying "yes" to the desirable actions our child makes. Telling our child what to do is always better than telling him what not to do. Encouraging good behavior when we see it is also better than giving punishment for undesirable behavior.
It is always better to catch your child being good than catch him behaving badly. When I see my son behaving appropriately, I see to it that he knows that I "caught him being good" by rewarding him with positive feedback. A simple, "Wow, my little boy already knows how to tidy up after playing! Very good." could go a long way, it will be with him throughout life.
It is important to emphasize to your child the Dos instead of the Don'ts. Do you know that it is possible not to say "do not" by saying "do"? It's just a matter of knowing how to rephrase your sentence. It is better to say, "Gather your toys after you play with them" than, "Do not just leave you toys when you are done playing with them".
The cool parent knows that he is aware how hard his child is working to learn new things. It is best to let your child know that you are proud of him, that you recognize him not only for his little successes but also for his attempts to make it in the world. Cool parenting is positive parenting. Cool parenting is learning from what you teach to your child.