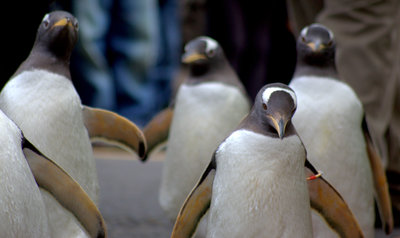 The term "social" does not have the same connotation that it did when we were kids.  Teens today feel just as connected, if not more so, when they text or chat online as they do when talking with friends face to face.  Many of their younger siblings in the 10-12 year old range are chomping at the bit to get out there and do the same.  Sadly, the internet is a big and scary place and many parents choose to shield their Tweens from it for a little bit longer.  Even if the individual parents disagree, most online social sites, like Facebook, have a minimum age of 13 to join.
So what is a socially-minded, technologically-savvy tween to do in a 21st century world where social development includes a major online component?
There are several sites that cater to the millions of tweens (and their parents) caught in that strange gap between child and teenager.  Internet safety watchdog group Enough Is Enough recommends three social networking sites for tweens: Club Penguin, Kuboo, and Zoey's Room.
At first glance, Club Penguin appears to be purely a massively multiplayer online game (MMO) and not a site for social networking.  In truth, the site was originally all about the MMO with little to no community.  But as the site grew in popularity features were added to make it more like Facebook but with significant limitations to prevent abuse.  With over 200 million registered users, the site has now grown so popular that no less than The Walt Disney Company purchased the company.  Tweens – and children as young as six – can interact online under the vigilance of moderators to keep things above board and filters to block out foul language.  There is even an option that limits comments in or out to be limited to pre-selected phrases from a menu of safe options.
Kuboo is similar in many respects to Club Penguin.  The social interaction component is blanketed in the world of an online game.  Members join in to a virtual world, complete with homes to decorate, games to play, and puzzles to solve.  As with Club Penguin, parents can set levels of communication from unrestricted down to "canned chat" that limits messages to choices from a pre-determined list.
Zoey's Room is a social networking site developed specifically for girls 9-14 years old.  The site does more than just offer a safe environment for tween girls to connect, it actively encourages girls to pursue education and careers in the STEM subjects: Science, Technology, Engineering, and Math.  Zoey is an online character who will personally interact with members during the hours after school lets out and is specifically designed to appeal to "both rural and urban tweens".
These are just three of the growing number of online social networking sites dedicated to the tween market.  If your tween is eager to enter the online world but you want to take an intermediary step, there are many choices to help you ease your son or daughter into the online community.