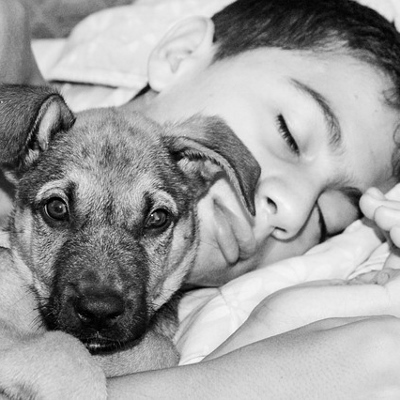 When we think of pets being good for our children, we usually think of elementary age kids. After all, they're at the age when it's good to start learning responsibility. Teens, not so much. Your teen probably already has a fair amount of responsibilities, maybe sometimes more than they think they can handle. So if your family has lost a pet, or never had one before, you may not be thinking of adopting one during your child's teen years. But that's something you should reconsider — there are lots of reasons it's good for a teen to have a pet in the family. (Just don't ask your teen to walk the cat. A dog is fine — nobody stares at someone walking a dog. But forget the cat walking. Just take my word for it.)
A pet is there for you when you're convinced everyone in the world hates you. For teens, this happens distressingly often. At times like that, it's therapeutic to be able to pat a dog or cat and see that it's happy to be with you. Even watching fish swim can be comforting.
Pets bring out a teen's gentler side. Most teens are mature enough to be touched by a small creature that's dependent on them. Even tough, emotionally distant boys have been known to use the word "cute" when they get to know a kitten.
Caring for pets is work experience. A background in taking care of their own pets can help teens ease into paying work like pet sitting or dog walking. Even if pet care doesn't turn into a job, a teen may need volunteer hours to graduate, and most animal shelters could use the help.
Pets can help with school work. Well, sort of, anyway. My son recently had to create a science experiment. He got permission to visit the shelter where we used to get our foster cats and see what happened when a large number of cats encountered a laser pointer. (The results — they all seemed to do something different.)
Pet care is a small taste of parenthood. Who needs an egg baby to teach them what it's like to have a child? A Siamese cat cries at least as much as a newborn human — no, more, I think. Pets are a source of work, problems, and just plain messes that you can't really blame them for. And you still have to try to train them, lovingly, to behave as well as they can. Remind you of anyone?