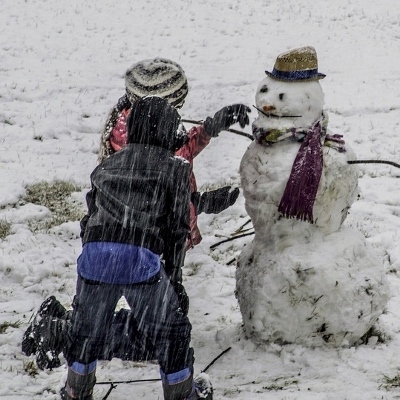 If a family lives in an area of the country where cold, snow, and ice prevail during the winter months, special safety concerns should be addressed with children.  This holds true for tweens as well. Although a child this age may sometimes seem like a mini adult, he or she still needs to be cared for, including being given safety rules.  To prevent injury, and to maybe even prevent the loss of life, relate these four winter safety tips to the tweens you care about.
The Buddy System Rocks
Winter activities such as ice fishing, snow shoeing, ice skating, sledding, cross country skiing, and snowboarding can be great fun.  The kicker: they can also be very dangerous to do alone.  Remind your tween to always have a buddy when doing any winter sporting activity.
For young tweens, this means they should find an adult buddy. Depending upon the activity, older tweens may be trusted with a buddy their own age.  For instance, if children in your neighborhood use a local hill for sledding, then a peer buddy may be sufficient; however, for more vigorous (dangerous) winter sports, opt for adult supervision at all times.
Dress for Winter Survival
Tweens may think it's cool to dress like one lives in Southern California or Florida, but colder climates demand much warmer clothing. Tweens will need appropriate winter gear, such as waterproof boots, heavy jackets, gloves, scarves, hats, snow pants, and the like.  In addition, clothing worn underneath outerwear should be layered to help trap warmth.
A typical winter ensemble for outside activity would include: undershirt, leggings or long johns, button up flannel shirt, jeans, pullover sweater, snow pants, and two pair of socks.  Then, add all the necessary outwear!
Another key tip: change out of wet clothing as soon as possible, as wet clothes are COLD.
Time Limits Necessary
No matter how warmly one dresses, hypothermia and frostbite might still strike a child who remains in the elements too long. Because of this, reasonable limits for outside activities needs to be set in advance.  How long a child can stay outdoors depends on the temperature, as well as the wind chill. A parent needs to understand that if it's 15 degrees outside, the windchill might be -2!  Once the wind chill goes below zero, then time outside needs to be very brief. This is because in extreme temperatures, frostbite can happen in minutes.
Obey the Spoken and Unspoken Rules
Tweens must obey all of the rules of winter sports.  Parents need to instill these rules into their children.  For instance, never skate on a pond or stream that does not have posted safe skating signs, never stray from ski trails, and wear all necessary safety equipment for that particular sport.  In essence, teach a tween to keep safety a priority in every aspect of his or her life.
There are many other important safety rules for a tween to follow when participating in outdoor winter activities.  Follow this link for a comprehensive overview presented by the American Academy of Pediatrics.