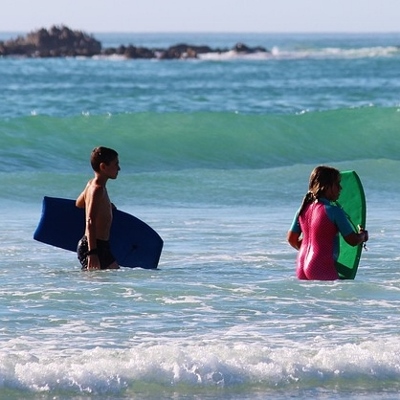 Study after study tells parents that children spend too much time on electronic devices.  The ramifications of doing so are many, including decreased social development. This summer, work with your tween to improve his or her social skills by moving away from the computer, and into the real world.  Check out the following four super activity suggestions; they will surely work to enhance your child's social skills.
1. Swimming with Friends
Take your tween and a few of his friends to the beach, local community pool, or water park.  These high action – and water filled – locations prohibit electronic use.  In essence, your tween will be free to interact with his peers with no virtual distractions. Water play not only encourages healthy interactions, it offers an excellent means of exercise. (Don't forget the sun screen!)
2. Biking with Friends
Just like swimming, biking is not conducive for electronics use.  For this reason, schedule a bike outing with your child and a few of her friends.  Many communities now have green belts or other groomed biking trails.  This makes finding a safe place to take a ride easy.  Of course you may want to follow along in the back of the pack for an added measure of security; however, let the group dictate the speed of the ride, as well as most of the stops.  Conclude with refreshments, and your child will be glad she experienced real friends instead of those she has on the computer.
3. Treasure Hunting with Friends
Children love to explore, to find hidden treasures.  Take advantage of this trait, and take your tween on a treasure hunt.  You might want to explore local geocaching opportunities, or you could hide your own "treasure," then make a set of clues on how to find it.  Have your child bring a friend or two along. They will have to work together to solve the mystery, thus leading to more effective social skills.  The treasure is one reward, and the other is having a child work as a team to solve a problem.
4. Game Night with Friends
Board games still exist.  They are still fun.  Host a game night (or day) for your tween's friends.  Play games that encourage working together, such as Twister.  Then, move on to competitive games, including Monopoly and Clue.  It might be chaotic at first, as some children may not be familiar with these classic games and their rules, but in the end, the children will have a great time. They will find out that old school games are fun to play, while at the same time honing their social skills.
The Benefits of Banning Electronics
Tweens need to interact with their peers (in real life) on a regular basis to develop proper social skills.  Children, who may have rely too much on electronics, must be encouraged to interact with friends in a variety of situations. This will help them to learn the skills necessary to get along in society:  empathy, give and take, forgiveness, understanding, tact, and many more.