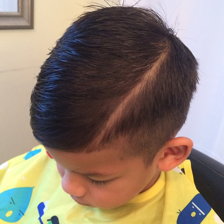 Many parents get very excited when planning to take their child for their first haircut and do their best to make their experience as pleasant as possible. The decision to cut a child's hair usually depends on the preference of the parents, but the majority of them do it when the hair has gotten too long, making it hard to maintain. However, finding the most appropriate hairstyle for your child may be a bit of challenge especially if it is the first time they are getting a haircut. If your child has a preferred hairstyle already, then it makes your work much easier but you still have to choose one that is appropriate for their age. Here are some  little boy haircuts that are quite trendy and worth choosing as your son's first hairstyle.
Vintage Hairstyle
If you want to maintain classic look for your son, then the vintage hairstyle is the best choice for you especially if they have straight hair. The hairstyle involves simple styling of the hair with a side part so that the final look is fashionable. However, if their hair has grown to a considerable length, then it has to be cut to an appropriate length before styling is done. This short haircut is appropriate for all ages and is quite easy to maintain when using appropriate hair products for kids.
Mohawk Hairstyle
This hairstyle will definitely make your child stand out whenever they interact with other kids as well as grownups. It is ideal for children with long hair because the style requires some hair to be left at the top after the sides have been cut to a shorter length. Normally, the hair left on the head should be in the middle and run from front to back for a dramatic effect. However, boys with shorter hair can also adopt the look if the haircut is done by a professional barber. For a more dramatic effect of the Mohawk hairstyle, the hair on top can be styled into spikes or ruffles.
Undercut Hairstyle
Styling kids to look like grownups usually makes them look like a younger version of their parents, which is a delight to many of them. The undercut hairstyle, which is quite popular with older men, can also be done on toddler boys with the final result being amazing. As with the regular cut, some hair is left on top and sides cut much shorter including those at the back of the head. This hairstyle will definitely get him attention as soon as he leaves the barber shop.
Brought to you by our friends at Men's Hairstyles Club.