During our summer vacation to Chatham, Massachusetts, we had one day with rainy weather.  We felt very fortunate to have only one day of rain, as there were 6 children and 4 adults staying in our rental house.  We decided that an afternoon visit to the Zooquarium would work for all of the kids in our group, ranging in age from 1 to 12.
We started outdoors with a live animal show in which the animal to be shown was a surprise.  The ki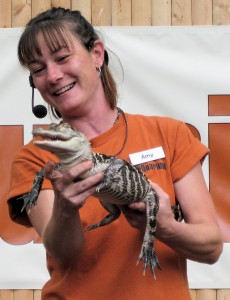 ds were excited to see a baby alligator. The presenter did an excellent job, especially considering the thunderstorm that arrived a fourth of the way through her presentation.  We moved to a covered area, where she continued her talk and allowed any interested people to touch the alligator.
From the presentation we walked to view some caged animals, including ravens and a bobcat.  There was a small exploration area that was in a sheltered area outside.  We toured this quickly and continued to the petting zoo.  There was a modest assortment of animals, which could be viewed.  We saw llamas, chickens, donkeys, and tortoises, among other animals.  Some of these animals could be petted or fed.  All were housed in natural environments.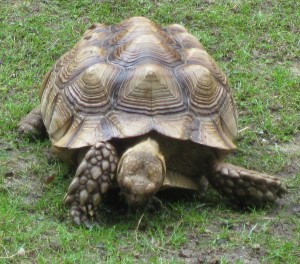 From there, we headed indoors to the aquarium part of the museum.  There were tanks of fish, frogs, and turtles.  There also was a touch tank that had horseshoe crabs, urchins, and other sea creatures.
The Zooquarium was a decent attraction to visit.  The good note is that the Zooquarium did amuse all of our children.  The disappointing part was that even though it was both a zoo and an aquarium, it did not amuse our group for long.  We spent a little more than an hour at the Zooquarium, and we had seen and done everything.  Perhaps, if we had had a group of children under the age of 6 it would have been more fun, but for our group it was a quick visit.