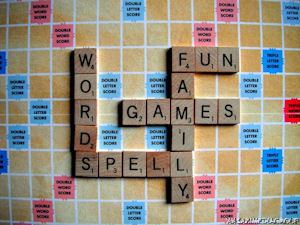 I think word games are the most underestimated games out there. Many people associate "word games" with a single game: Scrabble. Personally, I love Scrabble, so that's not a bad thing, but I also know that many people, especially younger kids, tend to consider Scrabble as boring, a game for adults. As a result, they tend to judge all word games to be the same way. Here are a few games that might change their minds:
Boggle – After shaking up a covered tray of 16 lettered dice, which are then allowed to settle, players try to list as many words as they can that are formed out of strings of adjacent dice. Three minutes later, times is up and the scoring phase begins!
Balderdash -Players take turns being the "dasher," who supplies a word from the box of "definition cards." This player writes down the real definition of the word, while all other players attempt to write down a convincing definition that they will eventually vote on. Players move around the board by guessing the correct definition or being the author of a definition that received votes.
Bananagrams -This game is like speed Scrabble. Players work independently to create their own "crossword" that uses up all of their tiles in valid words. Once one player is successful, he or she says, "Peel!" and all players must take an additional tile; the process repeats until all the tiles have been used.
Buyword– Players start with $200 that they will use to buy letters, which they will hope to sell back to the bank for a profit. Longer words, and especially ones that use less common letters, tend to be more valuable.
Word games are great for families because they inherently have a learning factor. In Boggle and Bananagrams, players are challenged to think quickly and creatively, but are also checked for validity, while in Balderdash, players are encouraged to use their imagination, and eventually learn the definition of a new word. In Buyword, players not only practice building words, but also a bit of understanding economics. Let the brains start cranking and the fun begin.