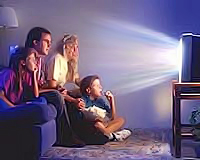 One constant battle that we face in our house is trying to decide what movies and shows are appropriate for our eight year old. Commercials, print ads, and his friends constantly are bombarding our son with previews of TV shows, DVDs, and movies.
My wife strongly prefers to preview the programs before Max gets to see them. This works well with TV shows. I generally can get a yea or nay on a show before the first commercial break.  DVDs have gotten easier to preview & judge thanks to the wonder that is Netflix.  We'll get a movie from Netflix and preview a bit of it the night before we let the boys know it's here.  If it's a stinker, we send it back, and we're only out a couple of days worth of movie watching.
Movies are trickier.  There's only one way to preview a movie that is playing in theaters.  There is no way I'm spending two hours and $8.50 to watch a kids movie without a kid so I can determine whether or not I'm going to have to spend another two hours and $17.00 + snack money to re-watch the kids movie with the kid. That's just not happening.
Sometimes I ask other parents, but I've found that the definition of 'age appropriate' can vary drastically from parent to parent.  That has proved relatively ineffective, unless I can find a parent who is on the same page as me AND has seen the particular movie I'm interested in seeing.
There are plenty of websites that will weigh in with their opinion, but you've got to get into sync with the mindset of the writer or it is even less effective than the parent-friend referral.  I've even found that within one website, different reviewers will have different standards and, therefore, different levels of helpfulness.
My personal favorite is www.pluggedinonline.com.  Part of the Focus on the Family organization, Plugged In tends to provide informative reviews with a minimum of disdainful opining.  For each movie reviewed, the site lists Positive Elements, Violent Content, Language, Alcohol, and Other Negative Elements.
Does anyone out there have any other good sources for checking out a movie before showing it to the kids?