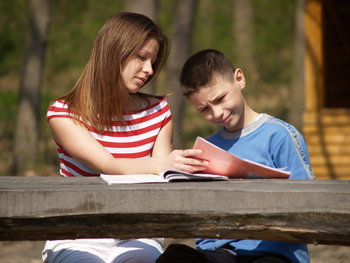 Starting 6th grade can be a scary experience for 11 year olds. New teachers, new friends, new expectations…it can feel overwhelming to a tween who is entering the doors of middle school for the first time. No longer young enough to be in grade school, but not old enough for high school, those of middle school age have the distinction of being "in between." Ask any adult when he or she felt the most awkward during his or her school experience, and a good number will reply, "6th grade."
Setting the Stage

One of the first steps in helping a tween successfully tackle 6th grade centers on parental support. It follows that a child who feels supported and loved will invariably transition to middle school more successfully. Parents and guardians can greatly assist a tween's adjustment to 6th grade by doing the following:
Discuss the fact that feeling nervous the first week or so of middle school is normal.
Give the child extra attention, including hugs, for reassurance.
Listen to a child's concerns, yet resist the urge to offer advice right away.
Let a child vent fears and frustrations first, then brainstorm solutions together.
Remain Involved
In addition to supporting a child emotionally, a parent of a 6th grader also needs to remain involved in the child's academic career. Don't buy into the mindset that tweens should be able to navigate their school experience alone. Instead, take the time to get to know your child's teachers, assist with field trips or school dances, and attend open houses and conferences.
Another way to remain key in a child's educational development: be excited about learning. Look for opportunities for you and your child to explore. Local museums, botanical gardens, libraries, and even farmer's markets offer the perfect environment for learning.
Teach Valuable Social Skills
Sixth grade success also hinges on tweens developing appropriate social skills. While some tweens exude confidence, others will need help in developing healthy patterns of interaction; therefore, if one wishes a child to be successful in 6th grade, then an effort should be made to increase a child's adeptness at using social skills.
What I mean by this is simple. A 6th grader should understand basic social rules and expectations. For instance, bullying other students is not acceptable. On the other hand, being a good listener, being respectful, and being FUN can go a long way in helping a child succeed socially in the 6th grade. In essence, adequate social skills allow a tween to interact and communicate with other tweens in an acceptable manner.
Don't worry if a child enters the 6th grade as relatively clueless about the "school's unspoken rules." The time to worry is when you have worked with a child to improve interactions, and by the end of 8th grade, the child has not progressed.
Final Thoughts
A word of advice: All 6th grade children can be viewed as unique individuals with diverse gifts. Support them, love them, encourage them, teach them, and in the end, their school experience should be a rewarding experience.