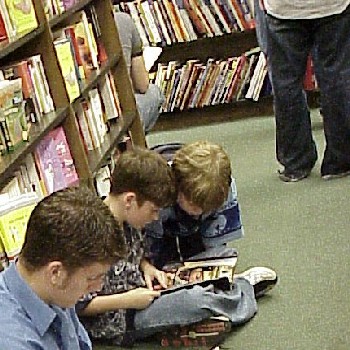 This spring, plan to celebrate National Library Week, April 14 – 20, with your tween.† The theme this year is "Communities Matter @ Your Library." Because of this, librarians and support staff across the nation have developed a host of fun activities to draw in all ages of visitors during this important week.† You can also make the trip to the library a social event. Have your tween explore all the library has to offer with a few friends. Who knows?† Maybe this group of friends will decide to start meeting at the library after school!
Why Socialize at the Library?
In a recent American Library Association press release, they cover the importance of the library as a source of social support. They state, "Libraries today are more than repositories for books and other resources. Often the heart of their communities, campuses or schools, libraries are deeply committed to the places where their patrons live, work and study. †Libraries are trusted places where everyone in the community can gather to reconnect and reengage with each other to enrich and shape the community and address local issues"
Taking tweens to socialize at the library will help them to develop a sense of belonging to their community. For instance, the library often hosts community meetings and focus groups in my hometown – all of which involve both adults and youth.† By introducing children to the library at a young age, a parent not only promotes life long learning, he or she is literally assisting a child in becoming a responsible citizen.
What Can Tweens Do at the Library?
In addition to special programs, such as book readings/signings, cooking programs, and musical acts, tweens can do an assortment of awesome activities at local libraries.† There are spaces specifically devoted to young readers. These cozy areas house books, movies, and music — most of which can be checked out.† Many libraries also have a selection of small animals on display, computer games, art showcases, and even snack areas.† Basically, the library offers a plethora of educational opportunities alongside fun ones!
Don't Forget the Card!
Hopefully you and your tween each have your own library card.† If not, apply for cards during National Library Week.† As a parent, show that you love to read, and that you are willing to find out everything that the library can offer your family.† (Also, ask the parents of the tweens you plan to take to send along their child's library cards as well.† That way the kids can check out materials too.† In addition, let the parents know you are willing to return the materials if they are unable to do so).
An Atmosphere of Learning
Social relationships between tweens can be nurtured in a variety of ways.† This April during National Library Week, take a group of tweens to a local library to celebrate all that these institutions have to offer.† Foster literacy while fostering close bonds between friends.