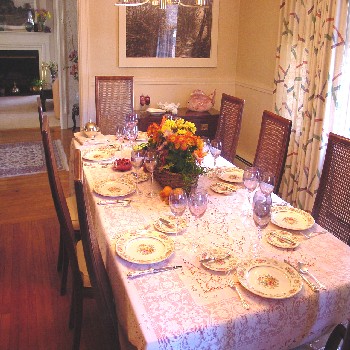 Thanksgiving is a time for families. To truly turn it into a family affair, ask your tween to help out. Not only does it take some of the stress off of you, tweens will feel that they are included even though they may protest about actually contributing to the holiday. If you are intending to celebrate the holiday as a whole family, it is important to state your intentions early since preparations usually start early.
Make your plans a few weeks early and inform your tween. This will help preempt any social plans that they want to make. It is fine to tell them that their family obligations are more important than visiting friends. It is only one weekend –á or one day, depending on your traditions.
Plan out some tasks for your tween. One of the tasks you can assign your tween is to come up with a plan for the table decorations. Lay out all of your Thanksgiving stuff and let them decide the placement or have them make a special centerpiece from things around the house. This will encourage them to set the table. It won't be as much of a chore.
If your tween is more interested in cooking than decorating, then get them involved in the cooking process. This is a good time of year to explain some of the things involved in making a big dinner. Take them with you to do the holiday shopping and list making. Let them choose a dish alongside the traditional ones.
You can task them with making a dish, such asá the salad, or direct them to do things like peeling potatoes or mixing sauces. You can even enlist them to help season the turkey. Although, you will want to put the turkey in the oven yourself. But certainly allow them to help out with making sure things are done on time.
If your tween is into music, task them with picking out appropriate background music to get them involved. Also, let them test out the sound system so it is set to the right volume for conversation.
Your tween can contribute to the Thanksgiving preparations. Not only will it reduce your stress, it will alleviate some of the things that you have to do. Remember, it is not important that things are perfect. Rather, it is important that they become involved in the family preparations because your tween is a part of the family.