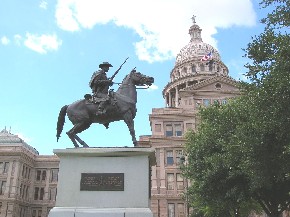 As a tween, history class bored me to tears.  I despised learning about people and events that had  long since passed.  My viewpoint changed, however, when my parents and grandparents began taking me to places of historical significance in our home town and across the United States.  Suddenly, I could relate to the people, places, and events that made our country great.
As a parent, I continued that tradition by including history lessons in almost every vacation (or fun excursion) I took with my kids.  It might not sound fun, but adding a learning component to your vacation can enhance the entire experience, and it leads to better grades in school!  Here's a list of some of the places my tweens, teens, and now adult children have visited.
1.  State Capitols
Early on, I began taking my children to the state capitol building of most every state we visited.  Entrance to these buildings is free, and you learn a lot about the history of a particular portion of the country.  Some buildings contain ornate architecture, and a few even allow you into the legislative chambers.  In my home state, I've taken my kids to meet their representatives.  Doing so has made a huge difference in their perceptions of government.
2.  National Historic Markers
I know you've seen them on the side of the road — historical markers.  Beginning when my children were tweens, we made it a point to stop at these locations of interest while traveling the highways of America.  I had the kids read the markers  out loud, and we discussed the significance of  them.  For instance, there's a  historical marker close to my home that pinpoints the route that Abraham Lincoln traveled while visiting my state.
3.  Antique Shops
I loved taking tweens to antique shops in different locations in the country, as they provided perfect places to discuss the tools and the people from the past.  My kids now know what chamber pots, kerosene lamps, non-electric irons, arrowheads, rug beaters, and cast iron stoves look like, and how they work.  Also on display at these stores — photos of people long since gone.  After visiting stores such as these, kids will understand that events of the past affected real people, real kids just like themselves.
4.  Museums
Of course museums offer wonderful opportunities for learning.  One of my favorite museums is the National Civil Rights Museum in Memphis, Tennessee.  My youngest literally soaked in all the information on the Civil Rights movement and on Martin Luther King, Jr.  She also enjoyed the museum at the site of JFK's assassination in Dallas.  The collection of memorabilia proved so powerful, and seeing the actual location of the motorcade left an indelible impression on all my kids. You don't have to drive or fly across the country, however, to take advantage of museums.  Local colleges and cities many times have small museums with cheap entrance fees.
As you can see, history can be learned by tweens in many more ways than just in books or online.