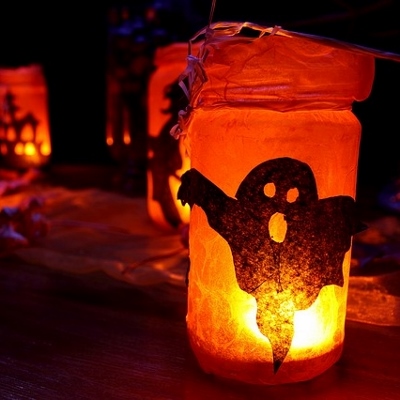 With Halloween festivities rapidly approaching, and with your child rapidly reaching teen-hood, you may wish to reconsider the traditional habit of trick or treating and plan something more in accordance with their age. Of course at this age they will still want to don the best and perhaps scariest costume they can find, so why not think about hosting a Halloween party for them and their friends? If your child still has a desire to fill up a pillowcase, going door to door for yummy treats, this is okay too. Have the party the weekend preceding the actual holiday to really get them in the spirit of things. Or, have a pre-trick or treat party early in the evening on Halloween before setting them free.
Allow your child to be creative in helping decorate the house by transforming it into a house of horrors. You may even wish to allow your child to recruit the help of a couple of friends, then stand back and let the fun begin. If you have a garage you may be best to clean it up, let them decorate it, and have the party out there.
Let your child help with the decision of what type of entertainment to provide. Do they want to bob for apples, smash a piñata, pin the tail on the donkey? Maybe they prefer acting a bit older and would just prefer non-stop music. Either way, it's their party so try not to interfere any more than is necessary.
If hosting a party is not your cup of tea, or your child no longer wishes to roam the streets in search of delights, give them and maybe a friend or two, full reign to decorate the garage, or front porch, and then let them dress up in costumes and hand out the treats. They'll have a blast and you won't have to worry, knowing they are safe and sound at home.
It's difficult to judge what the average age is when a child considers themselves too old to trick or treat, but generally this happens somewhere in the tween years. The absolute safest way to find out where your child stands on the subject is to simply sit them down and have a chat. Please be aware, whatever they decide is perfectly alright. Perhaps they aren't yet ready to give up free candy, perhaps they are. Eventually, they will reach that decision, and whether they do it now or a year from now really makes no difference at all in the overall scheme of things.