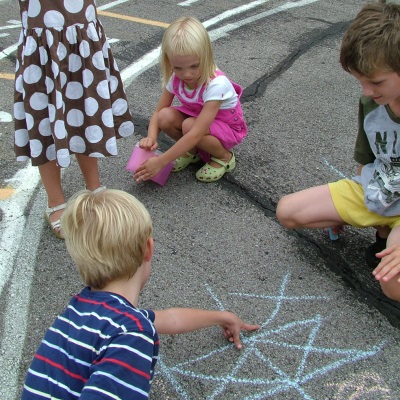 This time of year, some parents start wondering about enrolling their child in kindergarten for the coming September. Is your child ready for kindergarten? What guidelines are there to help make a decision?
Most school districts post suggestions to consider when registering a child for kindergarten. Is the child's birthday before the cut off date for your area? In Canada, the child must turn five by December 31st of the year of enrollment. Some districts set the cut off as of September 30th.
Has the child attended preschool or daycare? Consult with the teacher regarding your child's readiness to start at the "Big School". Keep in mind that there are fewer children being supervised by an adult in preschool than in kindergarten. How will your child manage in a classroom with 20 pupils and one adult? Ask at the local school if you can observe a kindergarten class and imagine how your child will feel, possibly overwhelmed or comfortable.
Children in kindergarten need to be quite independent. Can your child use the washroom without adult supervision? Is the child capable of putting on and taking off a coat, boots and shoes? If the child struggles with tying shoes, do the shoes have Velcro fasteners? Can you practice doing up zippers to help prepare for September?
Language skills are important in school. How does the child interact with other adults? Can the child express themselves most of the time? Does the child usually talk in sentences of about five or six words?
Social skills are another important area. Does the child get along with other children? Is your child beginning to learn how to share with others? In kindergarten, it is often necessary to wait in line to get materials. Also, it is common to take turns when using equipment. Is your child generally able to accomplish these tasks successfully?
Reading readiness is another area to consider. Can the child sit still long enough to listen to a story or song? Is the child interested in the book when someone is reading to them? Can the child arrange pictures into a story sequence and then explain what is happening? In most kindergarten classes, recognizing letters of the alphabet is helpful but not a requirement. However, it is important for the child to have an interest in wanting to learn to read.
If your child seems ready to enter kindergarten in September, start planning a few months ahead to help prepare for this big transition. In the first few months, many children come home from school exhausted because there is so much to do. Help your child to get a good night's sleep. Get in the habit of starting the day with a nutritious breakfast. Discuss with the child the kinds of appropriate snacks and lunch that will be taken to school. Let the child choose a lunch kit and backpack he or she will be happy to use.
The transition to kindergarten is an exciting time, enjoy!