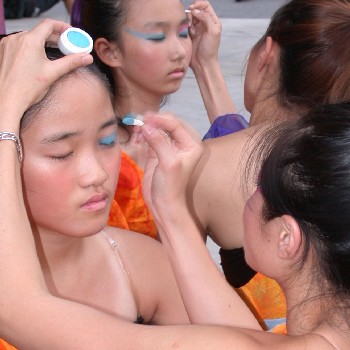 Those of you who are regular readers of my articles may remember my article on tough choices.  And I still one hundred percent stand by the decisions I made and explained to you, along with the advice I gave you.  I do, although, want to go back  and explain to you a few other decisions I made about a week or so later.  I decided that I still wanted to be as involved as possible  in the school's spring musical,  so I went back and talked with the musical director again.  I told her that I still very much wanted to be involved in the musical and she said she would get back to me with some things I could do.  A few days later she came back to me and asked if I would do the hair and makeup for the musical.  She picked this role because she always thought I looked very good on a daily basis and thought I could do well at this.  She also knows that I have the hope of becoming a makeup artist some day.
Automatically I agreed.  I was enthralled that she thought of that for my service to the musical, as not many people know of my talents in the beautification field.
Doing this was fantastic. I had so much fun and have actually decided to do this for every play and musical that my school puts on from here on out.  Not only that, but this will look great on a college application.  I feel that if I had not been involved in the musical I would've missed out on a lot.
The moral of what I'm saying is that just because you don't have the time to go head first into a full time commitment like a role in the school musical doesn't mean you can't be still involved on a smaller scale.  And if you are ever in some sort of dilemma like the one I was presented with, I hope you remember that the little things count as well and they are an important factor in the whole process.