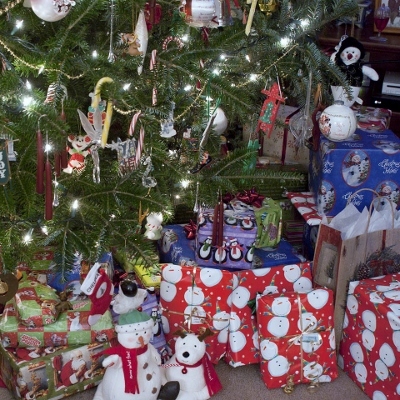 The holiday season is almost upon us and the thought of preparing for the big day may leave you feeling slightly stressed and anxious, especially if you haven't yet got any plans in the pipeline. This year, why not try and cut the 'crazy' out of Christmas and aim to make the holiday season one of total simplicity? You may think this is easier said than done, but there are some essential tips you can use to manage the holiday stress. Putting strategies in place to simplify your Christmas should allow you to relax and enjoy without a great deal of worry.
1.  Remember what the season is all about
Most of the time, we get so wrapped up in the Christmas madness that we forget what the season is actually about: joy, peace and, of course, spending quality time with family. Be realistic about your expectations and forget about trying to be perfect in every single aspect,whether it is the meals you cook, choice of decorations or the gifts you buy. All of this isn't as important as you may believe. Remind yourself of what is of the highest priority and everything else should follow second.
2. Make lists
To ensure you don't forget the important things, make a list of all you need to do a couple of weeks or even months beforehand, so nothing slips your mind. You could write lists of who you need to buy for, the items you need to purchase for Christmas dinner and the number of chores you need to get through before the big day.
3. Plan a flexible schedule
Christmas is hectic enough without having to dedicate your whole holiday visiting distant family members! Trying to fit so many visits into such a short space of time may fill you with a sense of dread. It's vital, therefore, to keep your schedule flexible, so you don't feel as though you're expected to be here, there and everywhere for the sake of others.
If you just haven't got the time to spend time with your entire family, why not give them a call or send a greeting card instead so that they know you're thinking of them? If you're tech-savvy, you may even decide to send an online greeting card which is quick, inexpensive and can be sent in bulk, meaning your card-sending is done and dusted in one swoop.
4. Cut down the gift-giving
As mentioned, the holiday season can often lose its true meaning, as there's a whole obsession surrounding the act of gift-giving. However, this can cause immense stress in itself,with worrying about who to buy for and the budget you're sticking to. Why not cut down your gift-giving list and buy presents for very close loved ones and children in the family? It can be awkward make such a decision, but essentially, gift-giving can get out of hand. At work, you could organize a 'Secret Santa' scheme, so you only need to worry about purchasing one gift for a large group.
5. Start early
One of the main causes of stress within the holiday period is leaving everything to the last minute. If you're one of those people who rush around on Christmas Eve to get last minute gifts, you're bound to feel stressed out and drained. Start your holiday shopping early, so you know you have enough time to purchase gifts for all those on your list in good time.
Shopping online is a fantastic time-saving method, as you can browse at your own leisure without having to push your way through the crowds in the shopping mall. Personalized gift ideas show a great deal of thoughtfulness, rather than just any random item bought from the shelf. If you're purchasing for a little girl this year, why not take a browse through Kidpik? This website offers an array of girls clothes than can be mixed and matched dependent on her personal style. She'll receive a personalized fashion box with clothing items that have been chosen just for her, either as a one-off gift or a monthly package delivered to her door.
6. Ask for help
There's no reason why you shouldn't ask for some help over the Christmas period, especially if you're struggling to keep up with your list of tasks. If you're having a large group over for dinner this year, why not assign each person a food item to bring along with them, which will cut down your spending and time in the kitchen. If you try and do everything by yourself, you may find you'll be cooking all day, rather than socializing. You shouldn't feel guilty about asking for a bit of help. Remember, it's your Christmas too and your guests will most likely be happy to oblige.
7. Remember loved ones but talk through your grief
Christmas can be a difficult time for those who have lost loved ones, especially parents who have tragically lost a child and are struggling to see past the joy and happiness of those around them. You may feel a sense of pressure to join in with the fun, however, sometimes the grief can take over and make you and want to hide away from the festivities. If you believe you're struggling with acute grief, why not open up to close friends and family about your thoughts and see if they can talk things through with you? You could also seek the help of a counselor.
8.  Take some time out for yourself
Although Christmas is an extremely busy season, that doesn't mean you should be running yourself into the ground. When you get to the point of feeling physically or mentally drained, it's important to take some time out and put yourself on the top of the priority list for a change. Enjoy the simple things the season has to offer, whether it be sitting down with a cup of cocoa or listening to your favorite festive tune on the stereo. You won't be of any use to anyone on Christmas day if you're too exhausted to be a part of the celebrations. The more time you choose to put aside for yourself, the happier and healthier you'll be throughout the holiday season.
Brought to you by our friend, Carol.