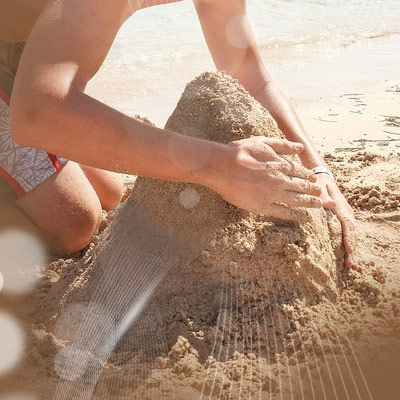 Everyone loves a good beach trip, or lake depending on which you prefer, but as your teens grow older they become less and less interested in a family day at the beach.  I, being a teen still myself, can see where they are coming from.  When you are eighteen you don't necessarily want to spend a whole day at the beach with your family when you could be there with your friends.  While compromising to only spend half the day at the beach, so they have the night with their friends, is always a great idea. There is plenty more that will keep them occupied for hours with you.
Offering to bring a friend is always a great idea, especially if he is an only child or all of his siblings are significantly younger than him.  This allows for him to have the entertainment of a friend while still spending the day with their family.  You could even take it one step further. If there is a family your whole family is close with and your children are friends, both families could go together.
If you are spending the day on a lake and either have a boat or are renting one, while that is plenty of fun as is, take it one step further and rent or bring a tube to go tubing on.  Not only is it great fun and provides an additional floating raft for when the family stops to relax, it also can bring a sense of competition to the day.  Challenge family members to see who can stay on the longest or who can stay on with the least limbs holding on.  (Please remember that tubing can be dangerous.  Always wear a life jacket, and if/when you do fall off the tube, tread water where you are and allow the boat to circle back to you. Never approach a moving boat, and always allow the driver to lift the propeller before getting on the boat to keep from cutting yourself on it.)
If you are spending the day at the lake but do not have a boat or are not renting one, paddle boats are another great form of fun.  Something we all remember from our childhood, the difficulty of steering and traveling makes your adventure on it even more fun.  Split the family in two and have a race to see who can travel the furthest the fastest.
Another fun idea is a sand castle competition.  Sandcastles were always fun to make as a kid and are still fun now.  Give each family member the same tools for creation, and have a competition to see who can make the most elaborate sand castle with in the time limit chosen.
While all of the ideas are great for a family day, they also can apply to a day a teen spends out with her friends if any ideas are needed on what to do.