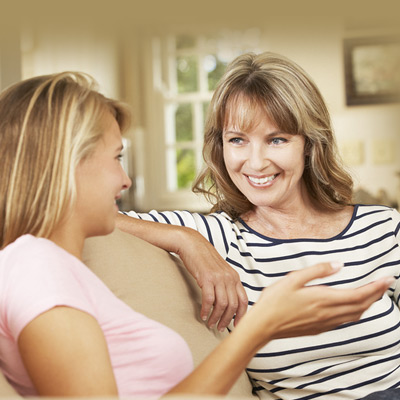 When your children transform into teenagers parenting becomes a totally different ball game. Your children are going to develop their own thoughts and opinions and will begin to challenge yours. This can be a difficult period for parents, as they try to navigate protecting their children at the same time as allowing them to have the new levels of independence that they crave. So, here we run through some general tips on how to handle this new situation, to help you not to make the same mistakes a lot of parents make.
Parent vs Friend
One of the nicer aspects of your child getting older is the fact you'll be able to relate to them more as an equal than before, resulting in a different kind of relationship that can resemblemore of a friendship. However, this can also be dangerous territory as it could result in them losing some respect for you which, in turn, can mean that they are more willing to disobey you. It is important to maintain their respect, so be careful how much personal information you divulge for example, sharing stories of your own teen misdemeanours can lead them to believe that you don't have the authority to guide them through their own teen years.
Encourage Their Independence
Independence will probably be the thing you disagree on most often, as they will be craving it and you will have to relinquish the control that has so far kept them safe. It is important to be flexible and let them develop some independence otherwise they will be ill-equipped for later life. They need to learn how to organise their own time, arrange their own appointments, look after themselves, and take on more responsibilities. It is important to keep some boundaries in place or they will most likely take advantage of their new freedom without considering some of the dangers they are putting themselves in. One way in which you can encourage healthy independence is by teaching them to drive but remember the expense of this can soon add up with lessons, the cost of a car, insurance, tax, and petrol. Make sure you thoroughly research different deals to keep costs down. There are loads that you could look to using, for example, you could save quite a lot using one sure, however, it's a good idea to first have a look around at different offers.
Encourage self-care
Your children are going to need to take extra care of themselves as they get older, as their bodies will begin to change. They will also feel an increased pressure from society as they start to find their place in the world, so it is important to teach them how to handle that. Self-care is an important skill for them to learn, as it will help them to have perspective on what is important as the responsibilities of adulthood start to creep up on them.
Parenting teens can be difficult but as long as you retain some boundaries it can be an enjoyable experience as your relationship with your child changes into something new. Encourage their independence whilst at the same time making sure they are equipped with the skills to handle the new pressures they will be under. For more parenting tips visit yourparentinginfo.com.
Brought to you by our friend, Isobel.