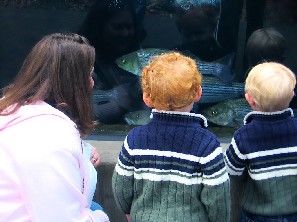 Depending on your preschool, your child may someday take a field trip. For parents, there is definitely some apprehension. There is just so much to worry about. This is one of the few times that you have to completely trust the school to transport your child, watch them, and get them back safely.
The best way to alleviate your worry is to volunteer to go on the field trip with your child. Take the time off from work to go on the field trip. Usually, you will know far enough ahead of time to put in for the time off. Just make certain that the preschool knows that you are volunteering — otherwise, you may not be able to join them.
If you are worried about transportation, consider asking the school to let you drive your child to the designated destination. You must let the preschool know that your child is participating and that you intend to drive them. Otherwise, your child might not be allowed to participate in the activity.
Don't let your worry about the field trip become your child's worry. Once this happens, they might hesitate to even go. This can pose a problem for you and the preschool. Usually, this ends up in your child going home with you instead of on a brand new adventure.
If you can't go, ask another trusted parent to keep an eye on your child for you. Consider asking the teacher to pair your child up with the trusted parent's child. This can alleviate some of your worries about who else is supervising.
Preschools have a responsibility to see that your child is safe on a field trip. It can get a little difficult for parents because this is another one of the firsts that children face while in preschool. But there are some things that you can do to alleviate that worry.