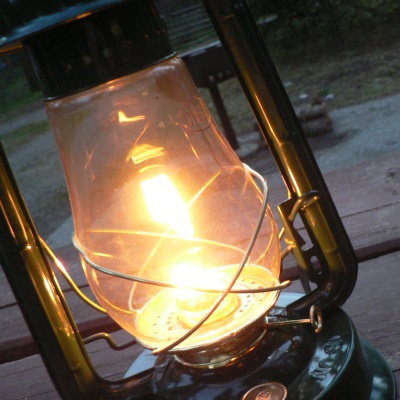 With tornadoes spurring and hurricane season in the near future, the power may go out more than we would like. This past winter was rough in many towns with snowstorms that ended the same way. So when the power fails, how do we amuse the kids? It's bad enough not to have lights, but without the use of electronics our families freeze. What do we do with a generation that is in "need" of material objects for entertainment?
As a Floridian, I begin to prepare the first of June for a season that lasts until the end of November. At least I have the time to pack up supplies. I know for many families, disasters pop up suddenly without warning. Maybe it's wise to have a power outage kit stowed away for any emergency. The first things adults think of is survival items, including water, non-perishable foods, flashlights, batteries, lanterns, and so on. And this is a good thing; however, when you have young children underfoot, they have no idea what life was like before iPads, smart phones, and DVDs.
It's time to look back to simpler methods of amusement. Here are a few ideas to keep elementary-aged children busy:
Keep your board games in a bin ready to bring out for "dark" days. Think about games that get the entire family involved, like Scrabble, Monopoly, Yahtzee, chess, checkers, dominoes, and jigsaw puzzles, just to name a few favorites. It's quite fun to huddle around a lantern and play a good board game.
Store a few decks of playing cards in the "busy box." I would also include a card game rules book to resource new card games and avoid arguments about the ones you already play.
If you have the indoor space during the storm, use individual jump ropes and hula hoops, so the kids can exercise out their anxiety and frustrations. Paper plates make good Frisbees too! And, if not for inside the home, when it's safe to go outdoors these items are a must. Add some sidewalk chalk and stones for a game of hopscotch too!
Do you have a craft bin? Supply it with plenty of papers, paints, crayons, markers, glue, buttons, string or yarn, paper plates, glitter and your creative thoughts. Also, don't forget small brown bags, as these are great to make puppets.
There are many valuable lessons learned during days without power. Okay, maybe we don't like the hassle, but as a family, view life with what you have and not what you don't. Renew communication skills between parents, siblings, and maybe other relatives or friends that weathered the storm under one roof. Find out how creative you can be with games and stories — your children may realize how much fun they are having. And last, know that you CAN live a simpler life if need be and the advantages of being prepared. You may find that having a "light's out" night once in a while is a really good thing — families can bond and interact together without the use of media. Hooray!