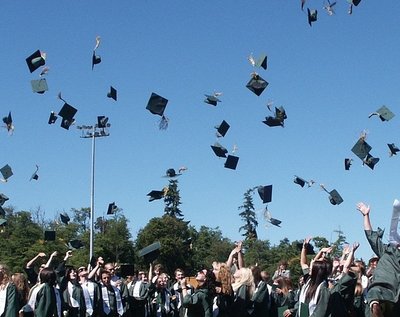 Yes, you read that right.  The end is near, the end of school that is.  For my fellow AP seniors, we are essentially already done.  AP testing has finished for me, a few of you may have one or two left, but essentially school is over for AP courses. For non AP courses, however, there is still a little time left. While it may feel easy enough to just slump off for the last few weeks, unfortunately we cannot.
These last few weeks of school are still just as important as any other, if not more.  That is because finals are upon us.  As a senior in my school I do not have to take these, but I do remember in every year past getting comfortable in the warm weather and feeling as though I had no care in the world as school was nearly over, and then finals hit me.  It may not be this way at every school, but at my high school your finals count for 15% of your semester grade.  That's a lot.  That can easily pull an A to a B, or even a C if you fail.  I remember finding online calculators to figure out how low of a grade I could get to maintain an A in the class, or how high I could get my grade if I aced the final.
While you shouldn't slack off completely in school, it may feel far more relaxed, and it is ok to take advantage of that.  I'm not saying don't do your school work. I always advocate for everyone to do their work and hand it in on time, but if a teacher gives you a varying due date, take your time doing your work and hand it in the last day you can.  This does not mean procrastinate until the night before, but take as much time as you can rereading and reviewing your work before handing it in.
For juniors, this is a great time to start looking at colleges for next year and touring anywhere you are interested in.  It was around this time last year that I went to a college fair at my school and found a university that I fell in love with.  (If you were wondering, it is where I will be attending this September!)  Even if you are only a sophomore it is never too early to be looking at colleges or figuring out what it is you want to do.  You shouldn't feel pressured as a sophomore or freshman, you have plenty of time, but it is never a bad idea to start thinking ahead.
Long story short, just because the weather is getting nice out and school is almost over, you can't start slacking off.  Study hard to get through finals. And remember it is never too early to start thinking about your future, but also don't stress yourself out over it.