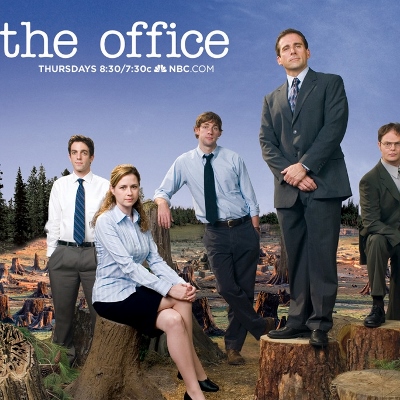 I love The Office.  I have seen, literally, every episode.  I think I have watched every season about three times by now.  I am dead serious; when I finally got Netflix, for those of you don't have it, I highly suggest it. It was the first show I binge watched from start to finish in about a month.  Being a bit older, some of the references may go over your head, especially in the first season or two, but it is hilarious.  I have never met a person who does not like this show.
The best thing about this show is how family friendly it is.  Yet, it still has a bit of dirty humor tucked in.  It is hidden well enough that your seven year old sibling won't be walking around saying inappropriate things like they would be if they walked in while you were watching unrated Family Guy or Skins, but it is still in there.  Sneakily hidden in like in Disney and Pixar movies so if you're above, say, fourteen you get the reference, but if you are younger than that you don't even notice it.
My family and I have all seen every episode, yet we still find ourselves re-watching our favorite episodes when there is nothing on TV.  Every episode is hilarious, some even more than others.  It never gets old, either.  You still find yourself rooting for Pam and Jim in the first seasons even though you know exactly how it ends.
The show is very realistic, too.  Not perhaps as much scenario wise; I highly doubt an office building will ever go through half the things they did or have such a ridiculous boss, but looks wise.  It is great for teenagers, especially girls because we all have self-esteem issues, because there really aren't any supermodel actresses like there are in a lot of shows.  Everyone is attractive for the most part as they are in all shows, but the standards are far more realistic and lifelike.  It shows you that real people are attractive too.
I highly suggest watching the show, even with your family.  As a teenager it is difficult to know what to watch, let alone something your family can sit down all together and watch.  It is both the perfect binge watch in one week show and the perfect family show show.