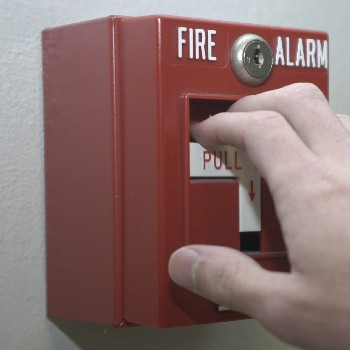 This week my school had an impromptu fire drill that none of the teachers were prepared for or warned about.   In fact nobody knew it was going to happen.  No, our school did not catch on fire.  There are two rumors going around school as to what happened, one of which seems legit and the other seems just as possible.  The most legit one is that there was something wrong in the air conditioning vents which triggered the alarm, the other is that someone pulled the alarm.
Whichever one it was, nobody expected it.  We were outside for nearly an hour since we had to wait for everybody to get outside and for the fire trucks to arrive.  But, despite how unprepared we were, I think it went very efficiently.  I know many schools that may have taken much longer to get outside and quite possibly could have had a few kids leave.
I truly think that schools do not practice them, not only fire drill but lock downs and other safety drills as well, often enough.   It is crucial for schools to be prepared in all situations.  Only 95% of schools practice safety drills.  This means that 5% of schools will be unprepared in any sort of dangerous situation.  People always brush off major school shootings by saying things like,"Oh that won't happen here." or, "Why would a shooter come to a little town like ours?"  But something that may shock you is that in the past 20 years nine out of every 10 school shootings have happened in quaint little sleepy towns.  Much like the towns that use those comforting excuses.  That means only 10% of school shootings in the past 20 years have happened in major cities.
In just the past 13 years there have been 32 major school shootings, and that doesn't even include shootings at colleges and universities.  And in a school shooting situation most victims are usually killed before police and S.W.A.T.  team have time to arrive.  This is because schools are not prepared for these situations and need to take a real hard look at the cold truth.  The chances of a school shooting happening at a school like yours, or at yours, are not as small as they are made out to be.
Schools need to take the time to really prepare themselves for a situation like the previous ones.  People need to stop saying that stuff like that doesn't happen where they are.  Columbine;  Santee, California;  Williamsport, Pennsylvania;  Jacksboro, Tennessee; Essex, Vermont; Bailey, Colorado; Omaha, Nebraska; Tuscon, Arizona; Walpole, New Hampshire; Chardon, Ohio; Newtown, Connecticut and many others.  It does happen.  Schools and towns need to take responsibility and get ready and practice school safety drills.  From lock downs to fire drills, schools need to be ready for anything.