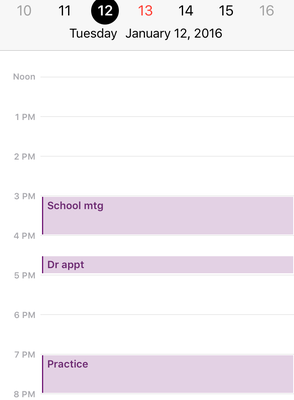 Schedules are everything.  They are so important in my life and many of my friends' lives, simply because they keep us organized.  My friends and I all keep fairly busy schedules, so having a way to lay out our day and what we need to achieve makes it much easier than trying to juggle everything all at once.  There are a few tricks to mastering the art of scheduling, which I will share with you.
If you are still a schedule newbie, remember to allow a little wiggle room in your schedule.  This goes for everyone, but stuff will always happen to put you a little off schedule. So if you remember to allow time for that when scheduling your day, or whatever else you are scheduling, it will go far smoother.
Let's start by scheduling your morning.  We will use my typical day as an example.  I wake up on weekdays between 6:00 and 6:10 and am downstairs for breakfast between 6:15 and 6:20.  I eat breakfast and am up to the bathroom to brush my teeth, put in contacts, and wash my face by 6:40 (I shower at night to save time).  I then head up to my room by 6:50 to get dressed and ready for the day.  Although I don't have to leave for school until 7:20, I prefer to be ready by 7:00 or 7:10, so I have a few minutes to pack my bag and lunch and whatever else I may need for my day.  Those extra ten or so minutes also allow me a buffer time in case I oversleep a bit.
Another thing to remember when scheduling is that you can't always plan out everything.  Say you and your friends are going to the city for the night, you can theoretically schedule your night, but your plans may change.  Maybe there's traffic, or your friends change their minds on where they want to eat dinner, you have to be able to go with the flow and allow your plans to change.
Lastly, writing out your day makes things so much easier, but it is not always necessary.  I typically only write out certain things on my calendar, like what I have for homework, practices, and any appointments I have.  However, I don't write out my whole day's schedule as it isn't necessary for me, as most of my days have a similar schedule.  Even if I do have a day with a different schedule, I will only jot down certain aspects of it.  Most typically I will put certain events into the calendar on my phone so I have reminders through out the day.
All in all, schedules make my life so much easier. If you have not tried using them yet, I highly suggest you do.  Chances are they will make your day so much easier.